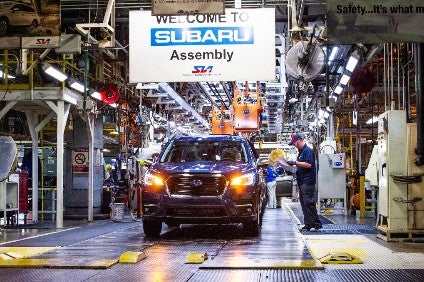 Vehicle production in Japan by the country's eight main automakers fell by almost 50% to 398,075 units in September with output affected severely by the ongoing global chip shortage and supply chain disruption in southeast Asia following the resurgence of the coronavirus pandemic in the third quarter.
This was the sharpest drop since May last year, when domestic output fell by 62% during the initial stages of the pandemic, and the second consecutive month of year on year decline, according to industry data.
Most vehicle manufacturers reported sharp declines with Subaru the worst performer as volume fell 75%, reflecting a 12 day production shutdown at three domestic plants.
Daihatsu reported a 68% plunge in output last month, with prolonged lockdowns in Malaysia and Vietnam severely disrupting its component supply chains, while Toyota and Honda both reported production declines of over 55% for the same reasons.
Mitsubishi Motors was the only exception with a reported 20% output increase compared with very weak year earlier volume.
Global output by the eight automakers fell over 35% to 1.56m units in September while worldwide sales dropped by just under 22% to 1.82m.
Toyota reported a 39% drop in global output to 512,765 vehicles last month while its global sales were down by just over 16% at 700,122 units, the first fall in 13 months.
The Dai-ichi Life Research Institute warned of the significant implications these production cuts could have on the country's economic output. Chief economist Toshihiro Nagahama was quoted as saying: "This could become the main cause of Japan's economic downturn and negatively impact a wide range of industries."