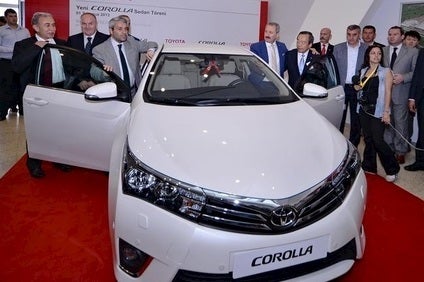 Toyota will spend about JPY20bn (US$187m) to manufacture new compact sport utility vehicles in Turkey from 2016, Japan's Nikkei business daily said.
The automaker will upgrade lines at the factory in the western city of Adapazari. The additional output will total some 100,000 units a year and the company hopes to export the vehicles to nearby countries and Asia, the report added.
Both hybrid and turbocharged petrol SUVs will be produced, according to the Nikkei. The hybrid will have the environmentally friendly HV system used in the redesigned Prius due out in Japan next year.
The new SUVs, smaller than the Toyota RAV4, will be based on the C-HR unveiled at the Paris show earlier this month.
A Toyota spokesman declined to comment on the report.
Officially, in a statement coinciding with a ceremony marking 20 years of production at Toyota Motor Manufacturing Turkey, Toyota Motor Europe president and CEO Didier Leroy announced a decision "to increase production [and] investment in TMMT in the future".
Leroy told employees there: "We fully believe in the potential for long-term economic growth in Turkey, and trust the capability of the Toyota members here. This plant is competitive, and we have decided to increase production at TMMT in the future and are now studying how exactly this will take shape."
Last year, the Turkish factory added the 11th generation Corolla sedan for Europe (the related Auris hatchback, which is more popular in western Europe, is made in the UK).
"This was a sign that we are competitive enough to build such an important vehicle," said TMMT president and CEO Orhan Ozer.
"In addition, locating production here in Turkey takes advantage of our proximity to eastern Europe, Turkey and the Middle East, regions where Corolla is quite popular," he added.
Corolla sales in greater Europe are up 44% year on year.
"We're very pleased to have secured Toyota's future investment in our plant," Ozer said.
Amongst the 1.5m vehicles that have come off the assembly line since the start of production in September 1994, are various Corolla sedan generations including wagons and two generations of the Verso minivan.
The plant started out as a complete-knock-down (CKD) factory in 1994, serving mainly the domestic market and operated within the Sabanci group as Toyotasa. Toyota was the first Asian auto manufacturer in the country.
In 2000, it was spun off and established as Toyota Motor Manufacturing Turkey, part of Toyota Motor Europe. Export started in 2002 and now constitutes 85% of total production volume – mainly to Europe, North Africa, the Middle East, Central Asia and Caucasus.
Current Corolla sedan production is for Israel, Russia, and other relatively close countries. The Verso is sold mainly in the European Union.