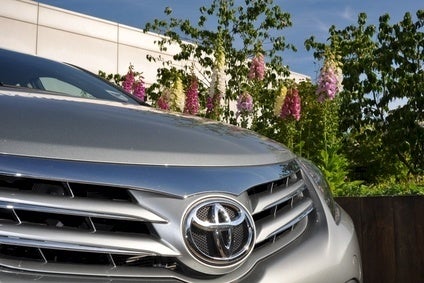 Toyota's latest quarter profits were up 10% on last year, boosted by a weak yen and cost reductions. However, the positive result came in spite of the company seeing lower overall unit sales in the quarter. It also warned on the outlook for sales in China.
Net income increased by 10% in the last quarter from 587.7 billion yen to 646.3 billion yen. Operating income increased by 63.2 billion yen.
On a consolidated basis, Toyota said that net revenues for the quarterly period ended June 30 totalled 6.98 trillion yen, an increase of 9.3%. Operating income increased from 692.7 billion yen to 756.0 billion yen, while income before income taxes was 845.2 billion yen.
Toyota said that major factors contributing to the increase included currency fluctuations of 145.0 billion yen and cost reduction efforts of 60.0 billion yen.
Consolidated vehicle sales for the first quarter totalled 2,114,000 units, a decrease of 127,285 units compared to the same period last fiscal year. Last quarter, sales in North America rose, while they turned down in Europe and Asia.
Managing officer Tetsuya Otake said there were signs of a pick up in Japan, but warned on prospects for China, given recent stock market reversals.
"For the time being, we have not seen an impact on our sales, which have been increasing in recent months, but stock markets are falling and other [China] indicators are mixed," he told reporters.