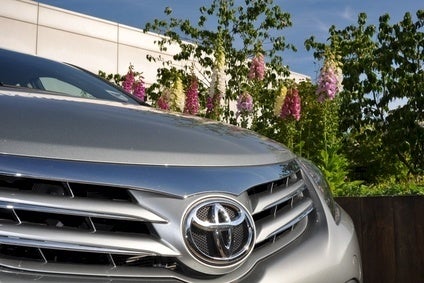 Toyota says it is recalling more than 5m cars worldwide fitted with certain Takata airbag inflators, which the automaker says, could be "susceptible to abnormal deployment in a crash."
"We have been conducting various investigations on Takata-produced airbag inflators," said a Toyota statement sent to just-auto. "Among the parts collected from the Japanese market, certain types of airbag inflators were found to have a potential for moisture intrusion over time.
"As a result, they could be susceptible to abnormal deployment in a crash. The relationship of moisture intrusion, if any, to the risk of inflator rupture is not known.

"Globally, for certain types of front passenger and front driver airbag inflators which could be susceptible to deploy abnormally, we are either initiating a new recall or expanding the production period of our existing recalls to involve approximately 5,089,000 additional vehicles."
For the UK, the vehicles involved are: Passenger side airbag: Corolla, Yaris, Picnic, Avensis Verso – around 995,000 vehicles built between March 2003-March 2007.
Driver side airbag: RAV4, Yaris, Hilux – around 271,000 vehicles built between July 2003 – December 2005.
Incidents involving Takata inflators have forced automakers to recall nearly 25m worldwide since 2008.
One other automaker is believed to be involved in a recall, but was not immediately available for comment.

Owners of vehicles involved in the recall will be contacted by Toyota within six weeks with further information on what action to take.
Repairs will be carried out free of charge.