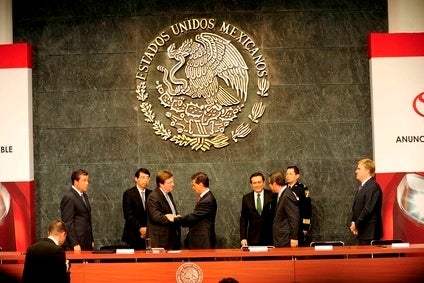 Toyota has, at last, confirmed earlier reports it would build a new plant in Mexico and also said it would expand Chinese joint venture Guangzhou Toyota Motor.
These company said the plants would feature "simple and slim" production lines which can be easily lengthened or shortened depending on demand [a trick also used in the BMW Leipzig plant opened in the early 2000s – ed]. Overhead conveyance devices will also be eliminated, compact equipment installed on top of plant floors, and smaller paint booths used.
This is in line with Toyota plans to construct production facilities that are more competitive, with greatly reduced initial investment, improved efficiency, flexibility, environmental performance and safety.
The announcement marks an end to Toyota's suspension of new plant construction brought about by factors such as the economic squeeze and numerous recalls. The company said it needed to focus on quality and improving capacity utilisation of existing plants and plan for reduced model change over.
Currently, total capacity utilisation is over 90% and the initial portion of new simple and slim plant costs, including structure and equipment, is expected to be approximately 40% lower when compared to 2008.
The Mexico plant will be built in Guanajuato to support improved competitiveness in North America. It will produce the Corolla taking into consideration forecast steady, mid and long-term growth in North America. The model is also built in a relatively new plant in Mississippi (planned initially for the Prius) and Canada.
Building the Mexican plant will be one of Toyota's efforts to realign its North American manufacturing operations and begin a new approach to plant building; featuring new work processes, including Toyota New Global Architecture (TNGA) production engineering innovations, and it will be a model for global manufacturing.
The new plant in Mexico and the expansion in China are intended to accelerate innovation by implementing these new technologies into real world production lines.
By restructuring its existing lines at Guangzhou and building an additional facility by the end of 2017, Toyota said it would create a Chinese plant that is "resilient and competitive". The company views it as vital to further improve the competitiveness of the existing lines and respond to future demand for stable growth in China. At the same time, GTMC will collaborate with engineering, production and procurement on effective use of the existing supplier network and reduce costs at its R&D centre.
Toyota president Akio Toyoda, said: "This investment represents our long held principles of continuous improvement and challenging ourselves to always do better. An increase in production does not mean an undisciplined pursuit of more. Toyota's expansion must be driven by providing ever better cars and our talented people. These investments will be an important test of Toyota's resolve and a measure of tangible improvement."