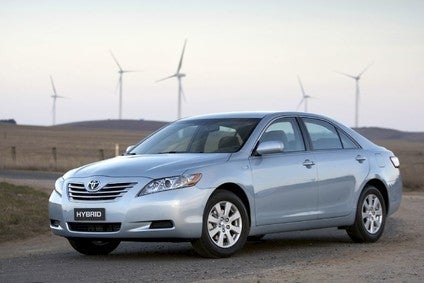 Toyota Motor is to recall about 6.5m vehicles worldwide to fix electric window switches that could short circuit and cause a fire. It recalled 7.4m vehicles worldwide in 2012 to deal with a similar problem related to unevenly applied lubricant during manufacture.
About 2.7m of the recalled vehicles in this new campaign are in North America, with 1.2m in Europe and 600,000 in Japan, Toyota told Bloomberg News on Wednesday. Recalled models produced outside of Japan include Camry, RAV4 and Highlander. 2005-2010 Camry and RAV4 models were included in the 2012 recall which cited 'unevenly applied grease' as the prime cause.
Toyota told Bloomberg it wasn't aware of any crashes caused by the fault leading to this latest recall, which resulted from inconsistent application of a sprayed-on grease on electrical contact points in the power switch. Debris can accumulate where insufficient grease is applied and result in a short-circuit, causing the switch assembly to overheat and melt, potentially producing smoke and leading to fire, the company said.
The carmaker received one report of a customer in the US receiving a burn on the hand, and 11 reports of switch and door trim burns. In the 2012 case, about 200 Toyota owners in the US reported seeing smoke coming from the driver's window switch, with a further 39 cases in Japan.
This time around, Toyota dealers will inspect the switch and apply heat-resistant grease, in a process that will take about 45 minutes. The internal circuit board will be replaced if the switch isn't operating normally, the company told Bloomberg.
The recalled vehicles were produced between January 2005 and August 2006, and August 2008 and June 2010, in Japan, Toyota said. The cars also include those manufactured outside of Japan between August 2005 and August 2006, and January 2009 and December 2010, it added.
2012 recall: JAPAN: Toyota recalls 7.43m vehicles globally