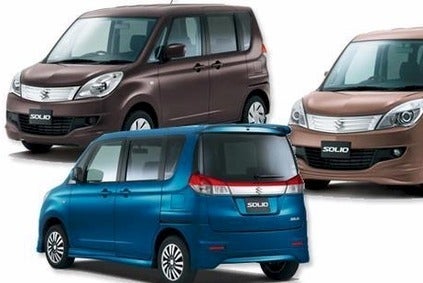 Suzuki Motor has announced it would launch its first full hybrid vehicle as early as next December.
The HV will be the latest edition to the automaker's Solio small car lineup, the Asahi Shimbun reported. Suzuki will launch a mild hybrid Solio on 26 August as part of the model line's first major remake in four and a half years. Production has been shifted from Kosei to Suzuki's Sagara plant, according to just-auto's PLDB.
Suzuki has previously made mild hybrids, which are equipped with an electric motor that assists engine startup and acceleration, but the HV will be the minicar specialist's first full hybrid, able to run solely on its electric motor, the paper said.
The latest move is part of Suzuki's strategy to strengthen its lineup of cars by introducing hybrid variants. Since last summer, the automaker has released mild hybrid variants of its signature minivehicles, the Wagon R and Hustler.
The Solio HV will be a significant addition to Suzuki's hybrid line as it is anticipated to be as energy efficient as Toyota's renowned Prius hybrid, the Asahi Shimbun said. The Prius can travel 32.6 kilometres per litre.
The Solio HV will also showcase Suzuki's technological capabilities in a field other than minivehicles, which is what the automaker is most known for.
In the company's midterm management plan through fiscal 2019, which was released at the end of June, the auto manufacturer announced that it plans to sell more than 100,000 small cars annually in Japan, excluding minivehicles. The company sold 76,486 small cars in fiscal 2014.