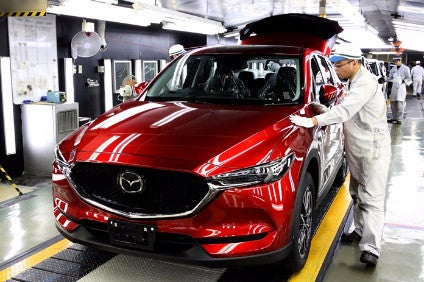 Japan's new vehicle market plunged by over 32% to 318,371 units in September 2021 from weak year earlier sales of 469,706 units, according to registration data released by the Japan Automobile Manufacturers Association.
The market last month was severely hit by the continued global shortage of semiconductors, which forced some vehicle manufacturers to announce huge production cuts. In August Toyota said it would cut global vehicle production by 40% in September from previous plans, with similar cuts having since been announced for October.
After rebounding by almost 24% in the second in quarter, vehicle sales fell by almost 15% in the third quarter due to the shortage of electronic components and shrinking inventories. In the first nine months of the year, the market was up by just 2.3% at 3,480,102 units after declining by over 18% to 3,400,267 units in the same period of last year, with passenger car sales rising by just 2.0% to 2,873,393 units and truck sales up by 4.6 % at 601,186 units.
The market for buses and coaches continued to struggle with reduced demand for travel due to the pandemic, with sales plunging by 29% to 5,523 units year to date.
Toyota was still the best-performing major local brand in the first nine months of the year, with sales rising by 5.9 % to 1,120,372 units, while second placed Suzuki saw its sales rise by just 0.4% to 471,007 units, Daihatsu 442,675 (+3.2%), Honda 448,705 (-4.3%), Nissan 358,008 (+0.3%) and Mazda 122,410 (-10.9%).
Sales of imported brands have outperformed so far this year, with registrations rising by 10.9% to 202,894 units.