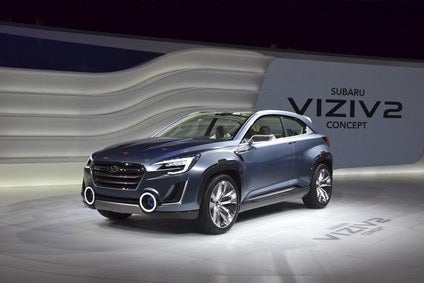 Subaru maker Fuji Heavy Industries (FHI) posted record global sales and profits in the financial year to 31 March and is forecasting further growth in the coming business year.
Global sales rose by 13.9% to 825,000 units with growth of 23.6% in the US to 442,000 units, led by strong demand for the Forester and Impreza models.
Operating income rose 171.1% to JPY326.5bn (US$3.2bn). Ordinary income grew 212.5% to JPY314.4bn and net income rose 72.8% to JPY206.6bn.
FHI said it expects fiscal 2014/15 to be another record year. It forecast global sales wouold rise to 916,000 units led by further growth in North America. It also expects net sales to grow by 13% and net income by 4.1% to JPY215bn.
The company also confirmed it would stop making the Camry for Toyota, which is its largest shareholder, at its Lafayette, Indiana, plant in the US from autumn 2016. The plant makes about 100,000 Camrys a year [supplementing a Toyota plant in Kentucky] as well as 170,000 Subaru Legacy and Outback models. Toyota, which axed the contract, will absorb the Indiana volume in Kentucky.