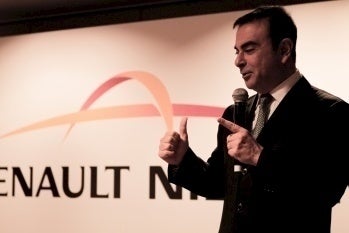 Carlos Ghosn, CEO of Renault, Nissan and leader of the Renault-Nissan Alliance has said he sees no reason for the two OEMs' Alliance structure to change.
His latest remarks follow moves by the French government to increase its voting rights in Renault, something which Ghosn failed to block in a shareholder vote last month.
"You need to have a strong reason, a strong strategic reason or a strong operational reason, to make the change," Ghosn said today.
Ghosn had previously voiced concern that the new law in Paris could impact the balance of the Renault-Nissan Alliance.
However, his latest remarks appear to dampen down the possibility of discord or disagreement within the Alliance, or any counter move to alter the capital alliance. Renault could cut its 43% full-voting stake in Nissan to less than 40%, which would allow Nissan to exercise voting rights in Renault, which it currently does not.
Analysts have speculated that such a move could follow moves by Paris to increase its say in the running of Renault, amid reports that some inside Renault are becoming concerned about 'Nissanisation'.
However, Ghosn told reporters that the capital alliance between Nissan and Renault had zero influence on daily operations.
"We continue to work today exactly the way we were working from the beginning, with the two teams working together, developing synergies," he said, adding that "there's no reason for us to change."