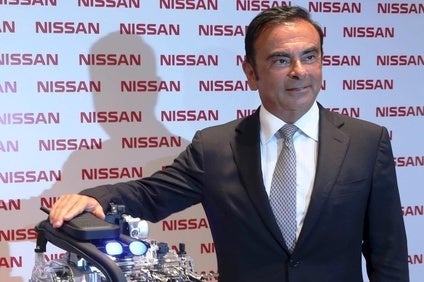 Nissan has reported a 37.4% increase to net income for the first half of the fiscal year. The results were boosted by a weaker yen as well as stronger sales in North America and Western Europe.
First half net income was put at 325.6 billion yen ($2.7 billion).
Operating profit rose to 395.0 billion yen for the period, representing a 6.7% margin on net revenues that climbed 15.3% to 5.93 trillion yen for the period. Nissan sold 2.62 million vehicles globally during the period, a 1.3% rise year-on-year.
"Nissan has delivered solid revenue growth and improved profitability in the first-half of the fiscal year, driven by encouraging demand for our vehicles in North America and a rebound in Western Europe, which compensated for market volatility elsewhere," said Carlos Ghosn, president and chief executive officer.
Nissan said the sales and earnings improvement followed strong growth in North America, particularly for the Altima sedan and Rogue SUV, and "encouraging demand" in Western Europe for models including the X-Trail and Qashqai. In China, nine-month passenger vehicle unit sales rose by 9.5% to 722,000 units.
Despite slower demand in Japan and several emerging markets, the company continued to benefit from robust overall sales of award-winning models derived from the Common Module Family engineering architecture, developed within the Renault-Nissan Alliance.
Nissan also remained a leader in electric vehicles, with cumulative sales approaching 200,000 units. As part of its zero-emission strategy, the company announced in September that its all-electric Nissan LEAF will be available with a new, larger 30 kWh battery that delivers a more-than-20-percent-longer driving range between charges.
FY2015 Outlook
The buoyant sales and financial figures prompted an upgrade to the company's expected Fiscal Year 2015 performance. The upward revision is based on a global sales forecast of 5.5 million units for the full fiscal year, up 3.4% on the prior fiscal year.
Nissan now expects net income for the year of 535 billion yen and operating profit of 730 billion yen.
"We are increasing our financial forecast for the full year as our product offensive, our continued financial discipline and the ongoing benefits of our Alliance strategy is delivering better than expected results," said Ghosn.