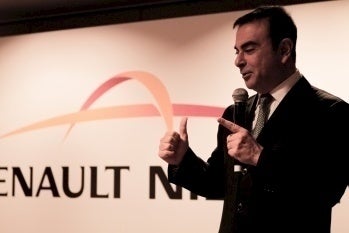 Nissan is forecasting that it will achieve a 14% increase in operating profit this financial year, on the basis of sales growth and further cost synergies from its alliance with Renault.
Nissan has posted operating profit up 18.3% to 589.6 billion yen for fiscal year 2014 (ended March 31), representing a 5.2% margin on net revenues that reached 11.38 trillion yen for the period.
Net income was up 17.6% to 457.6 billion yen in the year on revenues up 8.5% to 11.38 trillion yen.
"These are solid results in a highly competitive market-place," said Carlos Ghosn, president and CEO of Nissan. "We have been encouraged by demand for our new products. In the year ahead, we will remain focused on delivering continued revenue and profit growth, driven by our product and technology offensive, cost and sales discipline, and growing synergies from the Renault-Nissan Alliance. These actions will ensure we remain on the right path towards our mid-term strategic goals."
Nissan enjoyed a tailwind last year from currency gains, but also benefited from sales gains in a number of markets, notably the US where its Rogue model has been particularly successful. Those sales gains offset challenging market conditions in Japan and several emerging markets, Nissan said.
This year the company will face pressures in China where automakers are now cutting prices and adding incentives as demand softens.
New models, including the Nissan Maxima, Lannia and Infiniti Q30, are expected to contribute to fiscal year 2015 sales growth (projected at just over 6%).