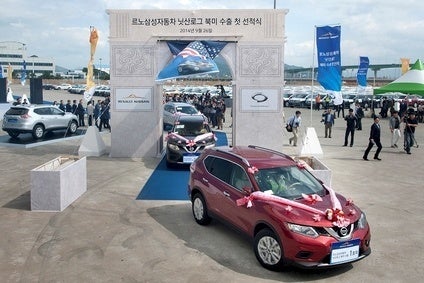 Nissan Motor will start producing the Rogue crossover (X-Trail in some markets) from spring 2016 at its production subsidiary in Kyushu, Japan, for export to North America.
Japanese output, at up to 100,000 units, will complement production in Smyrna, Tennessee, and Busan, South Korea.
A Nikkei report last January said Nissan was planning to exploit the weakness of the yen to increase exports from Japan, planned to raise annual domestic production by at least 100,000 units and was considering resuming output of the Rogue for North America at the plant in Kanda, Fukuoka Prefecture.
The Rogue is the product of a joint initiative with Alliance partner Renault to increase sharing of parts across models in the same class and the car can be flexibly built at plants around the world.
Rogue January to June 2015 sales in the US rose 36.3% year on year to about 135,000 units.
Nissan said it "studied ways to increase production of the vehicle, and chose Nissan Motor Kyushu due to its quality, cost competitiveness and flexibility, especially its gold-standard mixed-production lines adopted from the Renault-Nissan Alliance".
The plant already produces the [previous generation] Rogue Select for export to North America – another key advantage.
Established in October 2011, Nissan Motor Kyushu has become a 'global cost leader' within Nissan's global production structure, the automaker said, "with innovative logistics improvements between itself and the plant in Korea through the use of trucks with both Japanese and Korean license plates and in the expanded use of automatic guided vehicles".
The additional Rogue production is expected to help Nissan bring its annual Japanese unit output back to 1m units in fiscal year 2016.