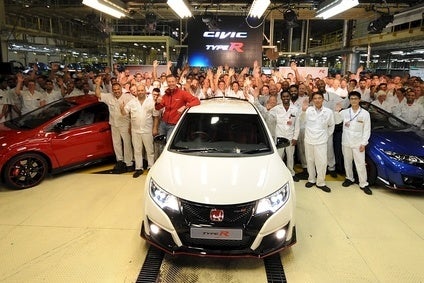 Honda Motor automobile production in Japan in July 2015 fell (-28% to 61,244 units) year-on-year for the 12th consecutive month but output in regions outside Japan rose for the fifth consecutive month, setting a record for the month. This included record July production in North America, the US, Asia and an all-time record in China (+20.1%; 92,771).
Production worldwide rose 7.1% year-on-year to 389,270 units for the second consecutive month following a record high in July.
Honda's automobile sales in Japan last month fell year-on-year (-15.4%; 60,045) for the 10th consecutive month as did new vehicle registrations.
Minivehicle sales fell for the ninth consecutive month (since November 2014).
But Honda's Fit [Jazz] was the industry's third best selling car with sales of 11,466 units. The Stepwgn was 10th with 6,677 units.
The N-Box was the industry's top selling minivehicle in July with sales of 11,879 units. The N-Wgn was eighth with 6,059.
ANALYSIS: Honda Europe in crisis – where's the Waku Waku?
Worldwide Production
Jul-15
Year-to-Date Total (Jan. – Jul. 2015)
Units
vs.'14
Units
vs.'14
Japan
61,244
-27.90%
397,996
-34.60%
Outside of Japan
328,026*
17.70%
2,189,110
7.20%
Worldwide Total
389,270*
7.10%
2,587,106
-2.40%
Production Outside of Japan
Jul-15
Year-to-Date Total (Jan. – Jul. 2015)
Units
vs.'14
Units
vs.'14
North America
155,630*1
19.70%
1,090,655
5.70%
(USA)
107,477*1
20.70%
754,233
2.10%
Europe
12,661
26.20%
77,756
-2.10%
Asia
147,572*1
14.80%
923,459
8.70%
(China)
92,771*2
20.10%
512,937
0.40%
Others
12,163
21.90%
97,240
19.50%
Overseas Total
328,026*1
17.70%
2,189,110
7.20%
Sales in the Japanese Market
Jul-15
Year-to-Date Total (Jan. – Jul. 2015)
Vehicle type
Units
vs.'14
Units
vs.'14
Registrations
36,433
-8.30%
233,927
-19.60%
Mini-Vehicles
23,612
-24.40%
220,545
-15.20%
Honda Brand Total
60,045
-15.40%
454,472
-17.60%
Exports from Japan
Jul-15
Year-to-Date Total (Jan. – Jul. 2015)
Units
vs.'14
Units
vs.'14
North America
494
-42.20%
3,460
-55.00%
(USA)
494
-33.00%
3,421
-53.70%
Europe
6,227
2837.30%
7,802
265.80%
Asia
876
15.00%
4,959
20.20%
Others
651
-29.70%
3,996
-26.60%
Total
8,248
199.50%
20,217
4.20%