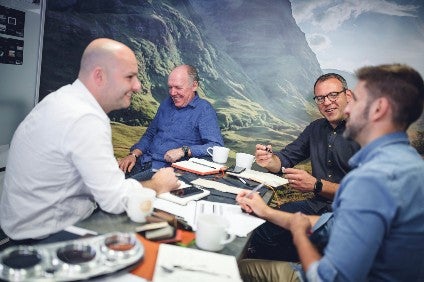 Those who wondered what former Jaguar design director Ian Callum might do after ending his 20-year career with the automaker on 1 July need wonder no more.
He's announced the formation of Callum, a new design and engineering business which, a statement said, would "create bespoke and limited-edition products across the sectors of design, lifestyle and travel".
The new studio is described as "a collaboration of talented and experienced individuals with a desire to invent, intrigue and excite", headed by founding members Callum himself, David Fairbairn, Adam Donfrancesco and Tom Bird.
"I wanted to get back to the essence of creativity; the challenge of producing something wonderful and personal," said Callum, who is design director there, too.
"To design the alternative has always been my mantra, but always the beautiful alternative and something to enjoy. In today's modern world, collaboration is the catalyst for new ideas, and this is our ethos and inspiration, both within our team and as we look to work with partners in the future.
Callum is an exciting new chapter that will focus on 'Journeys to Destinations', and all that encompasses."
Fairbairn is programme director.
The new venture occupies a 20,000 square feet facility in Warwick, not far from a variety of JLR operations, and houses the latest in design, engineering and manufacturing technology, enabling the design and creation of bespoke products in-house.
Ian Callum remains a consultant to Jaguar.
Details of the first project will be released soon.
The "network" of 18 individuals involved with the venture has experience spanning art, audio, automotive, fashion, lifestyle and motorsport.
Fairbairn has 18 years' experience in the automotive industry which includes the recreation of the Jaguar Lightweight E-Type.
Adam Donfrancesco, engineering director, is a design engineer whose record includes road and race cars for Noble, the Aston Martin GT8 and GT12 plus Jaguar's F-Type GT4
Tom Bird, the commercial director, has extensive experience at PWC, Barclays and Jaguar Land Rover, working on global business expansion and special projects, including the Jaguar C-X75 and its movie appearance.