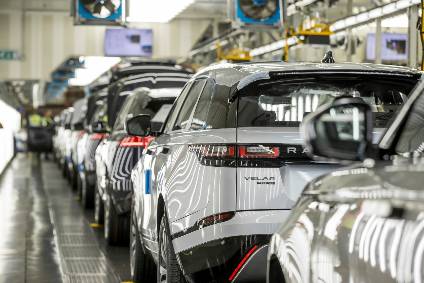 Tata-owned Jaguar Land Rover is planning a two-week shutdown at its main Solihull plant later this month due to weaker sales around the world.
A spokesman said in a statement: "As part of the company's continued strategy for profitable growth, Jaguar Land Rover is focused on achieving operational efficiencies and will align supply to reflect fluctuating demand globally as required.
"The decision to introduce a two-week shutdown period later this month at Solihull is one example of actions we are taking to achieve this. Customer orders in the system will not be impacted and employees affected will be paid for the duration of the shutdown."
Jaguar Land Rover today reported total retail sales of 57,114 vehicles in September 2018, down 12.3% year-on-year despite strong sales for new models including the Range Rover Velar and the Jaguar I-Pace and E-Pace.
China, in particular, is a major export market causing some concern for the company. JLR sales in China declined by a hefty 46.2% in September, as ongoing market uncertainty resulting from import duty changes and continued trade tensions held back consumer demand.
JLR September sales were down a much more modest 0.8% in the UK and 4.7% in Europe, which saw large industry declines of 20.5% in the UK and 31% in Germany primarily relating to the timing of new WLTP homologation rules as well as reduced diesel demand.
In North America, Jaguar Land Rover sales were 6.9% lower, largely reflecting lower industry sales (down 5.5%) and reduced incentives on Jaguar sedans, although Land Rover had a record September with sales up 7.3%.