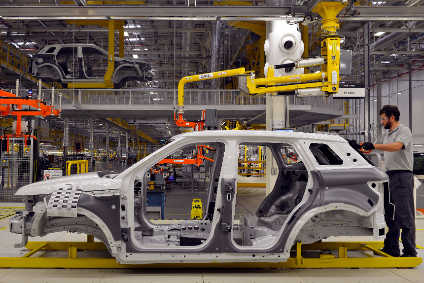 Tata-owned Jaguar Land Rover has officially opened its factory in Brazil – its first wholly-owned manufacturing plant outside of the UK. The new plant will build Range Rover Evoque and Discovery Sport – the most popular Jaguar Land Rover vehicles in Brazil.
The plant inauguration also represents the first time a UK-based automotive group has opened a production centre in Latin America.
Jaguar Land Rover's new factory in Itatiaia marks a further phase in its global expansion strategy following the opening of its Chinese joint venture factory in 2014.
The new facility will build both the Range Rover Evoque and Land Rover Discovery Sport for Brazilian customers. Vehicles will be on sale in dealers across Brazil this month.
At the plant inauguration, Wolfgang Stadler, Executive Director, Manufacturing, said: "The opening of Jaguar Land Rover's new world-class facility in Brazil marks the latest exciting milestone in our global expansion.
"Land Rover is already Brazil's market-leader for mid-sized premium SUVs, accounting for more than 30% of all sales in that segment. The Range Rover Evoque and the Land Rover Discovery Sport will now be manufactured for the first time in Latin America, building on their existing popularity with customers in Brazil."
The plant also includes Jaguar Land Rover's first overseas "Education Business Partnership Centre" which will provide a range of classroom activities for up to 12,000 local children each year. These will help them to develop key skills, work awareness and inspire them to pursue careers at Jaguar Land Rover.
Wolfgang Stadler added: "We are proud of the strong links that we have established with the communities close to our existing plants and the same is true here in Brazil. Our Education Business Partnership Centre is just one step we are taking to deliver exciting educational programmes to local children of all ages. Our ambition is to encourage them to consider a career in the automotive industry in the future."
The plant is described as "fully flexible" and JLR says it has been designed to support the company's future plans and "represents Jaguar Land Rover's long-term commitment to the Brazilian market".
Jaguar Land Rover also says it has sourced major components such as the seats, cockpit, exhaust, chassis and powertrain assembly from local suppliers including Benteler and IAC. In addition, it says it has invested in its technical assistance services to help suppliers support increased levels of localisation in the future.
See also: JLR's internationalisation strategy continues – Analysis