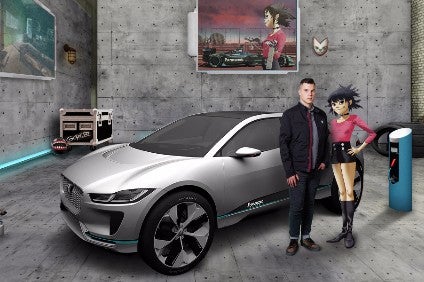 Tata Motors' luxury car group Jaguar Land Rover has hired its first Gorillaz app code cracker, as a software engineer, saying the global recruitment campaign, launched in June, had proved successful.
The Gorillaz app developed for the campaign featured a JLR recruitment area in the form of a 360-environment situated in the garage of the band's home where applicants could explore and take a two-part challenge. The first part involved assembling the Jaguar I-PACE Concept while the second, and more demanding part of the game, focused on cracking code in Alternate Reality Game (ARG) format.
JLR said it had interviewed over 50 code crackers to date and offered positions to 13.
The coding challenge remains open as the automaker continues a global search for next generation of electronic and software engineers.
Daniel Dunkley (23) was the first successful code-breaker to join the company. He left school at 16 and was working as a controls engineer at a local quarry. His coding and software skills are completely self-taught from an early interest in playing computer games at home with his older brother. He starts work on 2 October as a software engineer at JLR's R&D facility in Gaydon, Warwickshire.
The automaker plans to continue the search for recruits at its inaugural Tech Fest event, from 8-10 September at London's Central Saint Martins art, design and technology college.
Dunkley said: "I read about the coding challenge… on BBC News and decided to have a go. We did the interview by Google Chat then I was invited to Gaydon to talk about my new job. It completely blew me away that I didn't have to fill out any application forms.
"I was thrilled when they offered me a job! My dad drives a Land Rover Defender so I have always been a fan. I can't believe I may now get to work on the next generation Defender!"
So far, almost 400,000 people have downloaded the Gorillaz app. Of the 41,000 who have taken the challenge, over 500 have cracked the code.
Alex Heslop, JLR's head of electrical engineering, said: "Dunkley is exactly the kind of person we need. Technology companies provide an exciting opportunity for the brightest and best. We want to attract top notch talent in software, cyber systems, app development and graphics.
JLR has invited an array of speakers to take part in a series of debates and talks throughout Tech Fest, attended by an audience of global influencers and journalists from four continents. Topics will include the future of diesel, electrification, women in industry and robotics, debated by a range of global industry and consumer experts from around the world. To learn more and see the full speaker line-up, visit http://www.jaguarlandrover.com
The company noted traditional application methods remain open and CVs are still accepted.