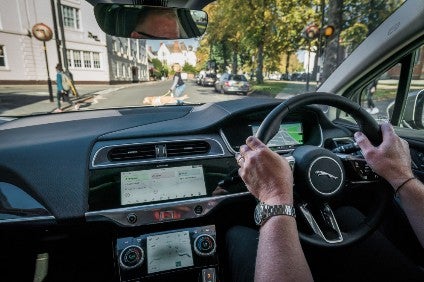 Jaguar Land Rover has added both Apple CarPlay and Android Auto functionality as standard to the 2019 Jaguar I-Pace and also as an option on some other 2019 model year vehicles with the InControl Touch Pro and Touch Pro Duo infotainment.
Drivers are now able to interact with mobile apps, such as Spotify, WhatsApp and, with the release of Apple's iOS12, Waze, through the vehicle's touchscreen, as with a smartphone. Where equipped, some functions can be controlled via the vehicle's voice control. Smartphones must be connected via USB cable to access Apple CarPlay or Android Auto on the touchscreen.
The Smartphone pack, which includes Apple CarPlay and Android Auto, is standard on all US I-Pace versions from launch.
Additionally, InControl Touch Pro or Touch Pro Duo infotainment systems with navigation, InControl Apps, and Wi-Fi connectivity will be available with the optional Smartphone Pack. Depending on model, that pack will be either a port of entry or factory-installed option for around US$300, depending on model and trim level.
Other changes to the InControl Touch Pro infotainment system for the 2019 model year include:
Voice command for navigation functionality introduced for some models;
Major graphical refresh on the Home, "Extra Features" and "Customisable Homepage" screens;
Minor user experience changes to the button and icon placement on "Media Screen";
Additional shortcut buttons on the home screen for key functions within Navigation, Media and Phone.
Designed and developed in-house around a quad-core processor, a high-speed 60GB solid-state drive (SSD) and an ultra-fast Ethernet network, InControl Touch Pro represented, JLR reckons, "a step change" for its infotainment technology when it was first introduced for the 2016 model year.
InControl Touch Pro has a 10-inch touchscreen. Like a tablet, there are no buttons; all controls are integrated into the bottom section of the touchscreen. The home screen can be customised and widgets can be added – users can add additional home screens.
Navigation data stored on the high-speed SSD can be accessed in a fraction of the time required with conventional hard drive technology. Users can zoom in and out of maps using pinch and pan gestures.
When there's no GPS signal the system can analyse data from the vehicle's sensors to accurately predict location.
Use of a data connection to access location-based features allows the user to search for a destination and the system will check if there's sufficient fuel or battery range to complete the journey. If not, this will be flagged and available filling/charging stations on the route that are within range are shown on the map; tapping on one adds it as a waypoint.
Data access also allows InControl Touch Pro to share destination, current location and estimated time of arrival (ETA) with others via email or text message when using the navigation. When the vehicle is caught in traffic the system can automatically follow-up with an ETA update.
Commute Mode learns an owner's daily drive so that it can offer alternative routes to avoid congestion using historical and real-time traffic information. Approach Mode adds a 360-deg interactive view of the destination alongside the map display when approximately 200m away and show where the nearest available car parks and provide directions.
Touch Pro Duo, launched for the 2018 model year, adds dual upper and lower touchscreens to form a new minimalist HMI that controls infotainment, HVAC and other system settings.
The system allows drivers to keep mapping information displayed on the upper touchscreen with access to further features such as HVAC control, seat settings, music information and drive mode selection on the secondary lower display.