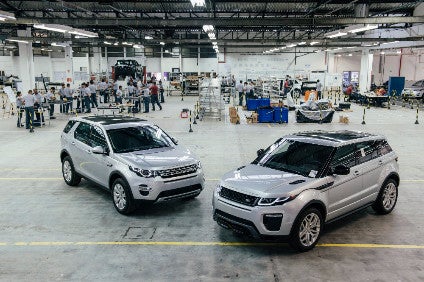 The first pre-production Brazilian Range Rover Evoque has left the line at the new Itatiaia, Rio de Janeiro state, assembly plant 174km (108 miles) west of Rio de Janeiro City. The automaker so far has kept to its planned local output timetable and plant inauguration is set for March 2016.
Tata Motors' JLR group has spent BRL750m/US$200m on facilities and worker training – from its own resources. Capacity at the new Brazil factory will be 24,000 units a year, creating 400 direct jobs in the first phase.
A second model, the Discovery Sport, is due on sale in April, shortly after the Evoque. A third model probably will be assembled locally – most likely the Jaguar XE – if sales prove sufficient to justify the cost of setting up the plant for the compact luxury sedan (its key competitor, the BMW 3-series, is now built locally).
Englishman Terry Hill, who ran the Brazilian subsidiary for less than two years, has quit after 30 years with JLR. He will be replaced next February by German Frank Wittermann, currently interim sales director for the Chinese subsidiary (in association with local Evoque manufacturing joint venture partner Chery).
Hill will remain in China for a personal project which has no link to the Indian/British automaker.
Shortly before his replacement was announced, Hill surprised his auto industry peers in an interview with local newspaper O Estado de S. Paulo (Oesp) in which he said the country's economy would recover quite quickly from the second half of 2016, and continue improving throughout 2017.
However, most analysts' forecasts for domestic vehicle sales point to another (6% minimum) drop in 2016, in addition to the severe 27% fall versus last year expected for 2015.
The economy will also be in recession for a second consecutive year, analysts say, and that is the first time this has occurred since 1930/1931 (reflecting the earlier New York Stock Exchange crash).
Hill, nonetheless, believes the forthcoming Rio de Janeiro Olympic Games set for 5-21 August next year will offset the current, pessimistic mood and lack of confidence here in Brazil.
"[During] the 2012 London Olympics a wage of optimism spread over [the UK] and [resulted] in benefits for the economy," Hill told Oesp.
It's worth noting, too, that the market for premium vehicles in Brazil has been least affected in 2015, according to data to the end of October. Sales rose 22% year on year to 52,000 units while the total market declined 24% to 2.1 m units. Land Rover sales dipped 8% while Jaguar volume was up 22% for the same 10-month period, a reversal of the Jaguar/Land Rover tallies worldwide.
The Land Rover division has ambitious growth plans for Brazil. It is already surveying a 10,000sq m (11,960sq yd) plot of land in São Paulo City to build a test and demonstration centre for the brand's customers and has allocated BRL20m/$5m to the project.