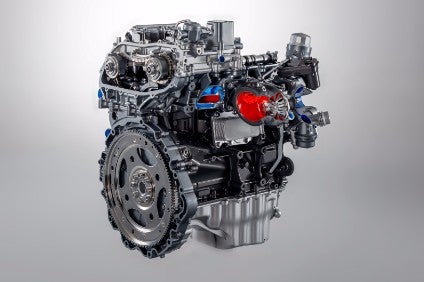 As promised, Jaguar is introducing an yet powerful 300PS Ingenium petrol engine to its XE and XF saloons and F-Pace SUV models.
This variant of the UK made, two litre, four cylinder engine produces 400Nm of torque and Jaguar claims F-Pace 0-100km/h acceleration in six seconds (0-60mph in 5.7) with fuel economy of 37mpg (7.7l/100km).
In the XF saloon the new engine delivers 0-100km/h in 5.8 seconds (0-60mph in 5.5) with all wheel drive. CO2 emissions are 163g/km and fuel economy up to 40mpg (7.2l/100km).
In the smaller XE saloon, the 0-100km/h sprint takes only 5.5 seconds (0-60mph in 5.2) with all wheel drive, fuel economy is up to 41.5mpg (6.9l/100km) and CO2 emissions are 157g/km.
"We continue to broaden the range of our Ingenium engine family, giving customers more choice than ever before. Our new 300PS petrol engine provides the performance synonymous with Jaguar, while delivering enhanced fuel economy thanks to its exhaust technology and pioneering valve train design. This clean and more efficient engine perfectly complements the advanced lightweight aluminium body structure of our models," said product engineering chief Nick Rogers.
The engine comes with the ZF eight-speed automatic transmission and the XE and XF offer the choice of rear and all wheel drive.
Earlier this year the Ingenium engine line expanded to include 200PS (XE and XF only) and 250PS versions of the I4 petrol engine. A 240PS 2.0-litre four-cylinder twin turbo diesel was also introduced.