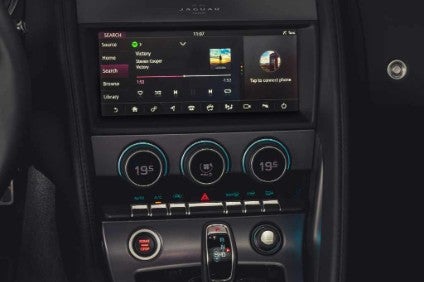 The updated F-Type is the first Jaguar to make the embedded Spotify app 'available', giving occupants instant access to 50m tracks and 700,000 podcasts without having to connect a phone.
Integration within the Tata Motors owned automaker's Touch Pro infotainment system enables seamless playback from devices in the home to the car and the app is also available – backward compatible – for all software over the air (SOTA) equipped Jaguar models.
SOTA was introduced late last year for a wide range of JLR models dating back to 2016, allowing owners to download new software themselves via a micro SIM card in the vehicle, or through a Wi-Fi connection, instead of having to take the vehicle to a dealer.
A smartphone pack includes Apple CarPlay, Android Auto and Baidu CarLife, depending on market, as standard.
"Our engineers have worked closely with Spotify to integrate this app into the Touch Pro infotainment system, and as a result our customers can have access to a huge library of music without needing to connect their phones," said Alan Volkaerts, vehicle line director for the F-Type.
Using a micro-SIM card in the vehicle or Wi-Fi, customers can, in three simple steps, download the Spotify app and update the online media sources, Jaguar claims.
The app is available in UK, US, France, Italy, Germany and Spain.