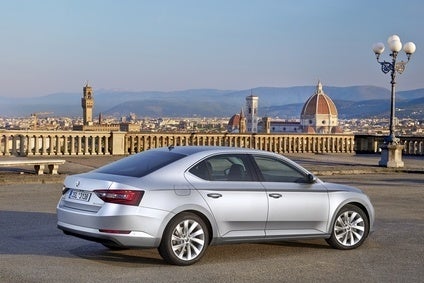 Skoda is considering adding a plug-in hybrid powertrain to its new flagship model, the Superb. The decision on whether to go ahead will largely depend on whether the company can meet the EU's 2020 fleet-average CO2 target of 95g/km using only combustion engines.
Adding an electrified drive system to the Superb would present no technical obstacles since the car is based on the VW Group's MQB architecture, which has been engineered to accept any form of powertrain. Already there are plug-in hybrid versions of the Audi A3 and VW Golf which are also MQB-based cars.
"We are thinking about a hybrid, yes, and will probably do it in two, three or four years," a Skoda source told just-auto on the sidelines of the Superb's international media launch in Italy.
"Technically, it is possible immediately, but there would be a price addition of EUR8,000 to EUR9,000, so we have to think about that and go step by step.
"We will continue with the standard development of engines, but if we are not able to meet the next round of emissions regulations that way we will follow the [Volkswagen ] Passat with a hybrid. I think you may see one in 2018-19."
The new Superb is the third to be launched since Skoda became part of the VW Group (the name was first used by by the Czechs on a pre-World War Two limousine) 24 years ago and the company has lofty sales ambitions for it. Skoda sold 750,000 units of generations one and two but is aiming to beat this with a cumulative 800,000 sales of the new one, including the estate which will be addded later this year.
Skoda is aiming to grow overall annual sales from 1m last year to 1.5m by 2018. To help achieve this, the company will enter at least one new market segment – with a larger seven-seat SUV based on the Yeti – at the end of 2016, and is considering the viability of a compact, coupe-like SUV as well. But the bulk of the increase will come from updating or replacing its current portfolio.