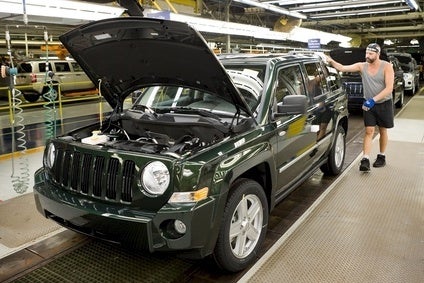 Fiat Chrysler will spend $280m to build Jeeps in India from 2017 – through an expanded joint venture with Tata Motors – because it wants to almost to double the SUV brand's 1m sales in 2014 by 2018.
Local production for major markets is key to meeting that goal, the carmaker said.
Fiat Chrysler chief executive Sergio Marchionne said in a statement the Indian investment was an "important step as we continue to expand the availability of Jeep products around the world".
Along with Alfa Romeo, Jeep is at the heart of Marchionne's US$54bn expansion plan for the group. Last week, Alfa unveiled the first of eight new models. The Indian market, potentially huge, is a struggle for western carmakers. Fiat's sales there fell 13% to 10,380 vehicles for the 12 months ended 31 March, according to industry data, and various JVs with Tata and others to assemble, distribute and service Fiat cars over the last decade or so have fallen well short of expectations.
Jeep's expansion plan relies heavily on India where SUVs are one of the fastest-growing vehicle categories and already account for about 20% of India's 2.6m annual passenger vehicle sales. Volkswagen and General Motors also plan to launch SUVs there within the next two years.
Ford builds its EcoSport small SUV there for domestic sale and export, primarily to Europe.
Assembly of a first Jeep model will begin in the second quarter of 2017 at FCA's plant in Ranjangaon, ithe western state of Maharashtra, where Fiat and Tata already build cars. Brand chief Mike Manley said recently Jeep would make its Indian sales debut this year with the mid-sized Cherokee and Wrangler SUV.
According to just-auto's current and future models database PLDB: Jeep's planned new 'C-SUV', which is due to replace both the Patroit and Compass, is expected to be one of the first models to be made in India.
Manley is also preparing to begin Chinese Jeep production later this year and plans to add assembly capacity in Italy, Brazil (where a new plant making the Renegade opened last April) and the US.
Also see: PLDB information on Jeep Patriot/Compass replacement