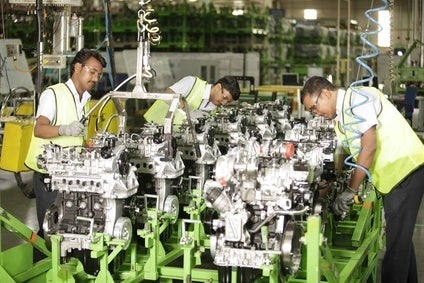 A US$1bn spend on General Motors' Indian operation comes with a sting in the tail: closure of the Halol plant in the state of Gujarat by the second half of 2016.
Halo dates back to GM's establishment in the country in 2006. Talegaon, in Maharashtra state, opened in 2008, will get a capacity boost to 220,000 vehicles by 2025 and become a global export hub with at least 30% of output planned for sale outside India.
Chevrolet will end production at Halol by the second half of 2016.
"Consolidating our manufacturing in a single location in India will support the long-term sustainability of our business in a challenging emerging market," said GM India president and managing director Arvind Saxena. "This is not a decision that we are making lightly and we are committed to treating those impacted respectfully."
Halol workers have been informed "directly", GM said.
A year ago, GM India had installed capacity for 282,000 vehicles a year but was using less than a third. A deal to ship LHD Beat models to Chile from the first quarter of this year was announced in May 2014.
Chevrolet announced earlier a US$5bn investment to strengthen its business in global growth markets through the development of a new vehicle family to meet the needs of customers in Brazil, China, Mexico and India. Of that, $1.9bn would be spent in Brazil, GM announced subsequently.
The automaker has spent US$1bn in India since 1996.
GM said the latest spend there would create about 12,000 new jobs at the automaker and suppliers. Domestic parts supply would increase and the dealer network expand.
Talegaon would "localise, industrialise and optimise its footprint to accommodate additional products for the domestic and export markets".
"The new global vehicle family we just announced will have several different body styles designed to meet the expectations of the Indian consumer," said GM's international head Stefan Jacoby.
"The vehicles will be manufactured and sold in India and feature striking styling that has never been seen here before. They will also be exported worldwide. With this investment, our aim is to double our market share in India by 2020."
There are no plans to export the vehicles to mature markets such as the United States, the automaker added.
Ten new locally produced Chevrolet models are scheduld for launch within five years. They include the Trailblazer SUV, on sale from this October, and the Spin MPV early in 2017.
"Chevrolet is committed to India for the long term," said GM CEO Barra. "We are delivering on our promise and doubling our investment in India."
In 2014, Chevrolet sold 56,700 vehicles for market share of 1.8%.