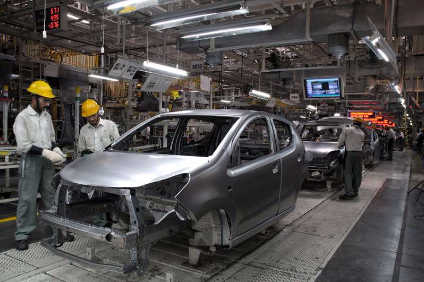 Sales of cars in India fell sharply in May according to data released by the Society of Indian Automotive Manufacturers (SIAM ). The trade body said sales of passenger vehicles fell for a seventh straight month in May, the longest run of successive monthly declines since 2014.
Car sales declined 26% from a year ago to 147,546 units, the sharpest fall across vehicle categories.
Analysts note that the market has been subdued by a number of factors – including political uncertainty, a slowing economy and higher fuel prices. SIAM is asking the Indian government to reduce car sales taxes (GST applying to vehicles) in order to stimulate the sector.
Sales of commercial vehicles also saw a drop in May of 10% witnessed a drop of 10 per cent to 68,847 units.
Reports in India say that carmakers are now looking to scale down production due to high stocks caused by lower than expected sales. Companies such as Tata Motors , Mahindra and Maruti Suzuki have announced temporary plant shutdowns in June. The shutdowns come on top of reduced production in May.
Mahindra in a statement said its manufacturing unit would observe 'no-production days' of between five and 13 days in the first quarter of fiscal year 2019-2020. Market leader Maruti Suzuki cut vehicle production by around 20% in May.