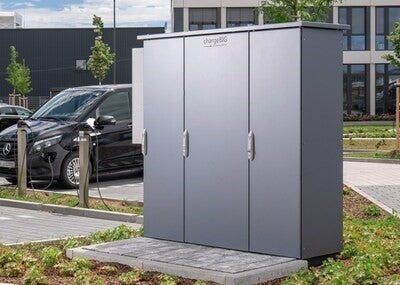 Ideanomics, which promotes commercial adoption of electric vehicles (EV), has agreed a deal with supplier Mahle to become "development partner" and exclusive North American distributor for the Chargebig 18-36 AC fleet charger product line.
Orders open in Q2 2023, with the first expected to be fulfilled early in 2024.
"This is an exciting addition to Ideanomics Energy's lineup of turnkey charging products which includes AC depot, DC high power, wireless and mobile charging," said SVP Jan Freimann.
The charger has "fantastic" load management software and modular architecture that can charge up to 36 vehicles from a system about the size of a fridge, Freimann added.
The US company had secured exclusive rights for five years to distribute the charging system under its Ideanomics Energy brand in North America. The two firms will optimise the system for North American commercial fleets including UL certification. It already meets regulatory requirements for charging infrastructure under California law.
Around 1,500 of the Mahle charging points are already in use with 20 companies in Europe in residential and business parking garages, while a "growing number" of commercial fleet operators are using them to recharge light and medium duty EV fleets.
There is also a large scale demonstration site in China.
The system's centralised control unit was said to be easy to install, and provides dynamic load management for up to 36 individual charging points with a charging power of either 7, 11 or 19kW.
"This allows for the most efficient charge across multiple EVs, and can charge twice as many vehicles compared to competing products," Ideanomics claimed.
Ideanomics recently acquired Via Motors and Ideanomics Energy will offer Via EV truck buyers charging systems including the new Mahle model.