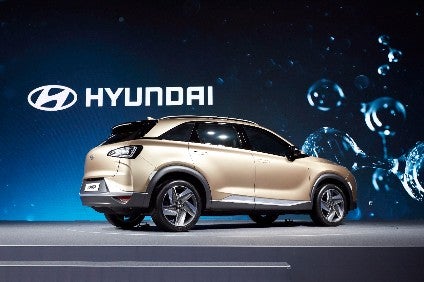 Hyundai Motor plans to begin construction of a plant in China this year to manufacture hydrogen fuel cell systems in anticipation of rapid growth in demand, according to unconfirmed reports citing local industry sources.
The reports suggested the South Korean company's first overseas fuel cell plant would be built in Guangzhou, in southern China, and that it had already received government approval for the investment. The automaker was said to be in talks to form a joint venture with a local company, with a formal announcement expected to be made later this month.
Last year the Chinese government said it wanted to see at least 1m hydrogen fuel cell vehicles on the country's roads by 2030 and substantial subsidies were being made available in key provinces to encourage purchases.
Hyundai Motor believes hydrogen fuel cells will play a prominent role in the future global automotive industry and has been one of the most proactive automakers in bringing this technology to market. It aims to sell 700,000 fuel cell systems a year globally by 2030 and recently launched a dedicated brand, HTWO (H2).