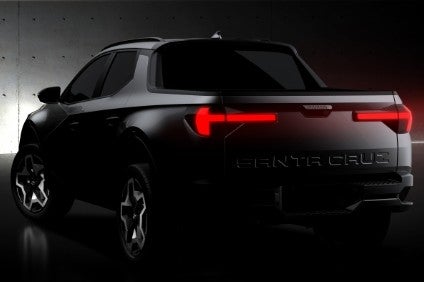 Hyundai has released the first teaser sketch of its Santa Cruz Sport Adventure Vehicle (pickup truck) claiming it will break new ground within the SUV, truck and crossover segments "by offering a new category of vehicle unlike anything else in the US market".
It will have a flexible open load bed, full connectivity and an all-wheel drive platform.
Build will be at the US plant in Montgomery, Alabama, starting this summer.
"Open-bed flexibility coupled with closed-cabin security meets the changing everyday needs of its adventure-oriented buyers, while powerful and efficient engines and superb manoeuvrability ensure it is a pleasure to drive in urban or off-road environments," said Jose Munoz, president and CEO, Hyundai Motor North America.
The truck was originally shown as a concept way back at the 2015 Detroit show but has lost its rear hinged rear doors in the transition to production.
Like Honda's similar Ridgeline, it's likely to be a largely North American product only.