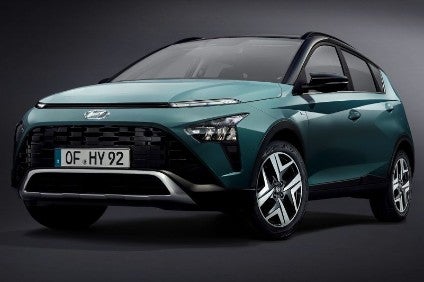 Hyundai Motor 's new Bayon (pronounced "BUY-on"), revealed online early in March 2021, is a small front-wheel drive crossover for mainly European markets. It shares much with the i20 particularly the interior.
According to the GlobalData Auto Intelligence Centre's Product Lifecycle Database (PLDB; subscription required), there are three engine choices – two versions of Hyundai Motor Group's 998 cc T-GDi mild hybrid three-cylinder petrol turbo engine with 48V electrics plus a 1,197 cc MPi four-cylinder non-turbo.
Outputs for the T-GDi are 74kW (100PS) and 172Nm (127lb ft) with more expensive variants offering 88kW (120PS) with identical torque.
Both six-speed manual or seven-speed DCT transmissions are available. The base MPi alternative has 62kW (84PS) and 118Nm (87lb ft) and comes only with a five-speed manual gearbox.
Platform is the HMG KP. The new model is broadly the equivalent with HMG subsidiary Kia Motors' well established Sonic small SUV.