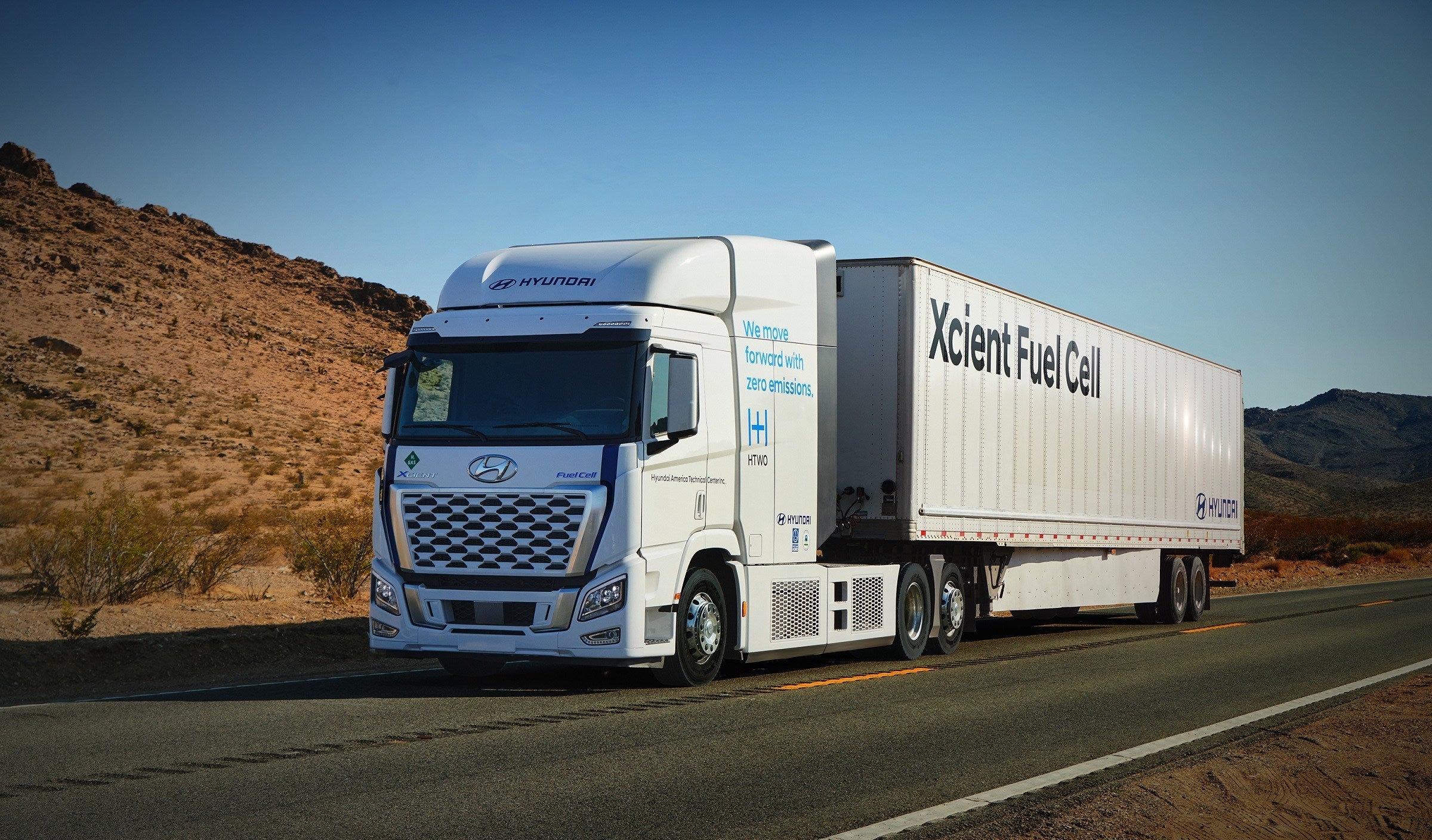 Hyundai Motor has announced a plan to deploy hydrogen fuel cell electric heavy-duty trucks in California, for two publicly funded projects.
The demo trucks are based on the automaker's Xcient fuel cell, claimed as the world's first mass-produced, heavy-duty truck powered by hydrogen.
Launched last year in Switzerland, the hydrogen truck has now completed 1m km of driving. The US version has a maximum range of 500 miles (800km).
Hyundai plans to develop its zero-emission commercial fleet business in the US and establish local company collaboration.
It will start with 30 units of Class 8 fuel cell trucks from the second quarter of 2023. This will be the largest commercial use of such FCVs in the US.
A consortium led by the Center for Transportation and the Environment (CTE) and Hyundai Motor recently won US$22m in grants from the California Air Resources Board (CARB) and the California Energy Commission (CEC) plus $7m in additional grants from the Alameda County Transportation Commission and the Bay Area Air Quality Management District for this project.
Hyundai's NorCal Zero project will use the 30 trucks, with a 6×4 drive axle configuration, in northern California. Logistics company Glovis America will be the fleet operator of these trucks. Macquarie will finance the trucks through leases.
The consortium also plans to establish a high-capacity hydrogen refueling station in Oakland, California that will be able to refuel up to 50 trucks with an average fill of 30 kg.
Hyundai Motor was also awarded a $500,000 grant from the South Coast Air Quality Management District (South Coast AQMD) to demonstrate in Southern California two of its fuel cell trucks. Largely funded by the Environmental Protection Agency (EPA), the project contributes to achieving clean air standards in the south coast air basin by reducing emissions from diesel trucks.
The trucks will be used for long-haul freight operations between warehouses in southern California for a year. Hyundai will also work with First Element Fuel to use three hydrogen refueling stations in the region for the trucks.
In 2020, Hyundai said it would deliver 1,600 fuel cell trucks to Europe by 2025. The first 46 arrived in Switzerland last year.
During that time, the fleet has reduced CO2 emissions by an estimated 630 tons, compared to diesel-powered vehicles.
Trucks used in California run on hydrogen stored in larger quantity on the vehicle in tanks rated at 700 bar, or about 10,000 psi, of pressure. The maximum gross combination weight will be 37 tons, or about 82,000 lbs.