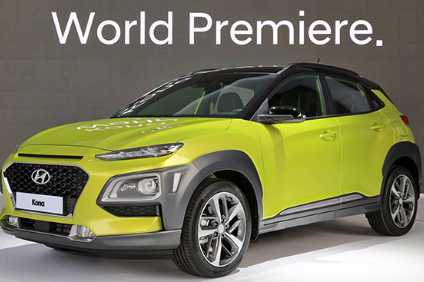 Hyundai Motor has unveiled the latest vehicle in its expanding line-up of SUVs, the Kona B-seg compact SUV. It says the Kona is designed to appeal to 'modern customers with active lifestyles'.
The Kona joins Tucson, Santa Fe and Santa Fe Sport in a growing line-up of Hyundai Motor SUVs, as the company continues to widen customer choice in the segment. At the world premiere of its new B-segment SUV, Hyundai Motor reaffirmed its promise to deliver SUVs that feature progressive design with high interior refinement and spaciousness.
The Kona will go on sale in Korea later this month, followed by North America and Europe.
"With the Kona, we have created a stylish and highly functional compact SUV, perfectly suited to the needs of customers who pursue challenging, action-filled lifestyles," said Euisun Chung, vice chairman of Hyundai Motor Company. "We aim to set new standards for the compact SUV segment, with appealing design, cutting-edge connectivity and class leading safety features."
Hyundai said Kona is aimed at the Milennial demographic, and has a low and wide stance to help driving dynamics.
'Composite lamps' enhance the Kona's high-tech and mechanical appearance, Hyundai says, while slim daytime running lights (DRL) incorporate turn signals and are positioned in a 'stack', separate to the LED headlights.
A new compact platform has been developed to 'provide customers with a true SUV experience'. SUV-level ground clearance and an elevated seating position ensure better visibility for drivers and increases comfort on long journeys.
The Kona offers a range of small-displacement turbo-charged petrol engines and diesel powertrains – dependent on the market.
A 2.0-litre MPI Atkinson engine produces 149PS, with a 0-100km/h time of 10 seconds and a top speed of 194km/h. Paired with a six-speed automatic transmission, the engine delivers maximum torque of 179 NM (13.8 kgf m) at 4500rpm.
The Gamma 1.6T-GDI engine boasts 177PS, a 0-100km/h time of 7.7 seconds and a top speed of 210km/h. The engine delivers maximum torque of 265NM (27kgf m) from 1,500 to 4,500rpm and is mated to Hyundai's efficient and responsive seven-speed dual-clutch transmission (7DCT).
In addition to the 1.6T-GDI engine, customers in Europe can also opt for Hyundai's downsized 1.0 T-GDI turbocharged three-cylinder engine with six-speed manual transmission. This turbo-charged powerplant is optimised for efficiency and produces 120PS, a 0-100km/h time of 12 seconds, top speed of 181km/h and maximum torque of 172NM (17.5kgf m) from 1,500 to 4000 rpm.
Also available will be a 1.6 diesel engine for select markets, including Europe.
The newly-developed SUV's chassis is engineered to be rigid, topped with a lightweight body for dynamic driving performance and a comfortable ride, Hyundai says.
Hyundai Motor says it is the only car manufacturer to make its own steel to produce its vehicles globally, 'providing great benefits for the Kona'. The lightweight body frame has been developed with 51.8% Advanced High Strength Steel to deliver class-leading levels of passive safety.
Hot stamping methods produce lightweight, super-strong structural elements to maximise the cabin's central safety zone. This proves that small cars can deliver exceptional passenger protection, Hyundai says. The length of structural adhesives used in production extends to 114.5 metres, providing additional torsional rigidity and further reducing weight – which also benefits fuel efficiency.
The platform also features a multi-load path structure – an advanced energy dispersion technology that boosts impact tolerance by dispersing crash energy across multiple structures to protect passengers in the event of an accident.
Active safety features include Forward Collision-Avoidance Assist (FCA), which uses the car's front-facing camera and radar to detect imminent collision and avoid impact or minimise damage by braking autonomously. Three further systems also utilise the front-view camera to boost safety and convenience: Lane Keeping Assist (LKA); High Beam Assist (HBA); and Driver Attention Warning (DAW).
The car's radar systems also assist with the Blind-Spot Collision Warning (BCW) to detect approaching vehicles that may be obscured from view during high speed driving. The Rear Cross-Traffic Collison Warning (RCCW) detects when another vehicle may have entered the car's reversing path.
A new combiner Head-Up Display (HUD) is fitted to the Kona, projecting a virtual image onto the clear glass panel mounted behind the instrument panel to enable the driver to keep his or her eyes on the road.
In a claimed first for the segment, the Kona features smartphone wireless charging. Available as an option with all Kona models, customers simply place a compatible smartphone on the wireless charging interface, located in the centre console storage, to recharge without the need for cables. The system also indicates when the phone has fully charged, reminds occupants to remove their phone when exiting the vehicle, and detects when a foreign object is in the recharging area that could interfere with charging.