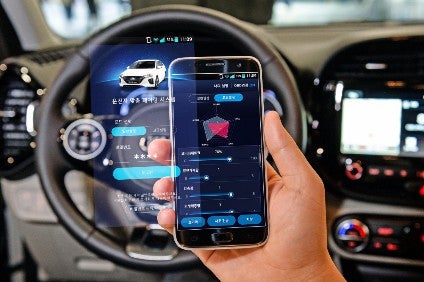 Hyundai Motor and affiliate Kia Motors have jointly developed a claimed world first: mobile-based tuning technology for electric vehicles (EVs).
The South Korean carmakers said the new application, to be introduced with upcoming new electric vehicles, allows drivers to control the performance, driving efficiency and comfort levels of their cars using smartphones and tablets.
The system enables drivers to adjust seven performance characteristics and functions, including maximum torque output, ignition, acceleration and deceleration performance, regenerative braking capacity, maximum speed limit, responsiveness, and climate control energy use.
The technology is expected to significantly increase the appeal of EVs by enhancing user experience by allowing drivers to 'personalise' vehicle performance via mobile devices.
Drivers can also to download 'customised settings' as well as save their own personal settings on a central server for use in any vehicle they drive. The new system uses blockchain technology to encrypt the data to safeguard security.
The company said in a statement "as electric vehicles continually expand their market share, especially in rental and car-sharing industries, the new technology will allow drivers to use their custom settings in whichever electric vehicle they drive by downloading their profile from the server".
The application also provides optimised settings for a designated destination by analysing the remaining distance and electric energy requirement.
It can also accommodate sportier driving by recommending tailored performance settings, the automakers said.
Customers can also apply settings recommended by Hyundai based on road conditions.
Hyundai and Kia plan to launch 44 environment-friendly vehicles by 2025, including 23 EV models, and see potential for additional technology and services for "non-combustion vehicles".