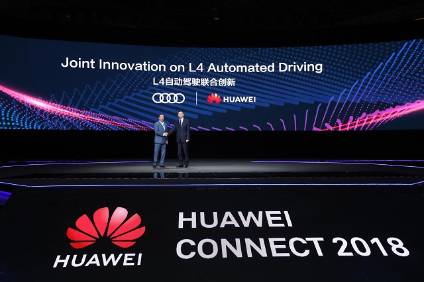 Chinese telecoms giant Huawei says it will launch self-driving cars as early as 2021 in partnership with several carmakers, including Audi and Chinese firms.
In an interview with the Financial Times, Dang Wenshuan, the company's strategy chief, said that Huawei is developing self-driving AI software with Audi and Chinese manufacturers including GAC, Beijing New Energy Automobile and Changan Automobile.
"From my understanding, we are working together to have a car that will be shipped in the year 2021 or 2022," Dang said. He said the car would be available in China and elsewhere, including Europe.
Huawei is under pressure to diversify its product offerings as it has been blacklisted by Washington over 5G infrastructure provision and associated security concerns arising from its close relationship with China's state sector.
Dang told the FT that China will be at the forefront of the global autonomous vehicle industry when it gets under way in 2021 and 2022 because of the size and dynamism of its market. Asked which of Huawei's partners would be first to market with a road-ready car, he said: "In terms of moving to a connected car, or an autonomous driving car, the Chinese car manufacturers are moving even faster."
The FT report noted that several Chinese internet companies including Alibaba, Tencent and Baidu are developing self-driving vehicles with different partners.
In July last year, Huawei and Audi signed a memorandum of understanding on strategic cooperation to jointly develop intelligent connected vehicles.
The cooperation between Huawei and Audi is also intended to facilitate the ongoing advancement of intelligent driving and the digitalisation of services in the vehicle environment. The two agreed to jointly develop training programs in order to strengthen the skills of technology experts in both of these areas. Intelligent connected vehicles allow relevant information to be exchanged between the vehicle and the surrounding environment. To achieve this, cars need a high-quality, stable data connection. The expansion of this communication requires intensive research and development, Huawei said at the time.
Working in cooperation with Huawei and the Chinese authorities, Audi became the first foreign automobile manufacturer to participate in the first-time deployment of "LTE-V" on public roads in the megacity of Wuxi in eastern China in 2017. "LTE-V" is a mobile communication standard, which is specially tailored for connected cars. Drivers were provided with real-time traffic information via connections to traffic light systems and video monitoring at intersections.