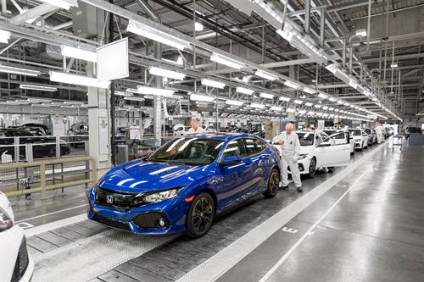 Honda's UK manufacturing plant at Swindon – the sole global source for the new 5-door Civic – is aiming for production of 165,000 units in 2017, some 18% ahead of last year.
The plant is now making the tenth generation Civic and exporting cars to markets around the world (over 70 countries), including North America. Production for Europe started late last year, following the start of production for the US market. European sales of the new Civic started in the first quarter.
By developing the European facility into a global manufacturing hub for the hatchback model, Honda hopes to increase Civic volumes whilst developing improved economies of scale and quality. Honda is aiming to make its plants around the world increase their level of product specialisation to raise efficiency.
Honda's Swindon production is allocated at around 15% for the UK market, 35% for mainland Europe and 50% to the rest of the world (mainly North America).
Honda has also said it will invest over GBP200m in advanced production technologies and processes at Swindon, bringing Honda's total investment in its sole European production facility (which also makes engines) to over GBP2.2bn since 1985 (vehicle production started in 1992).
Honda CR-V production at Swindon is finishing this year and the new CR-V for Europe is manufactured at Honda of Canada Manufacturing (HCM), in Ontario.
Honda has said that annual capacity at the Swindon plant is 250,000 units, but it is currently operating on one line only (line 2 is inactive or 'mothballed', with no current plans to bring it back into use). Line 1 will be operating at capacity this year. Turning the UK plant into a global source for one model makes it less dependent on the European market, something that looks potentially strategically wise following the UK's Brexit vote last year.
The Civic Sedan for the North American market is made at Honda's Indiana plant (which also makes the CR-V). The four-door sedan version was launched in US in late 2015, with the Swindon-produced 5-door version launched in US last year (shipments started in September).