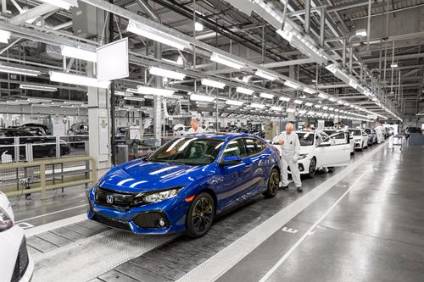 Honda plans to transfer some Civic model production from the UK to Japan ahead of the closure of its Swindon plant in southern England in 2021, according to sources in Japan.
According to reports, some of the company's UK production will transferred to its plant in Yorii, Saitama Prefecture, in response to falling demand in Europe and also due to the UK's scheduled exit from the European Union at the end of 2020.
The Swindon plant currently produces Civic compact cars for sale in the UK and in North America. The company had already decided to source North American Civics from within the region, while production of Civics for sale in Japan will also be consolidated at the Yorii plant.
The automaker will make a final decision on where it will source cars for sale in the UK after trade talks between Japan and the UK have been concluded. Many in Japan expect an agreement that will result in the removal of automotive import tariffs.
Nissan Motor had previously announced plans to produce the next-generation X-Trail SUV at its Kyushu plant in Japan instead of in the UK.