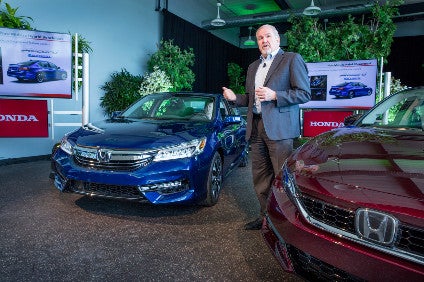 Honda has announced it will expand its next Clarity model line to three variants from a single fuel cell model. The Clarity Electric and Plug-in Hybrid will both launch in the US in 2017.
"The addition of two new vehicles, based on the same platform underpinning the new Fuel Cell, makes Clarity the first vehicle in the industry to offer fuel cell, electric and plug-in hybrid technology on one model platform, offering Honda customers an expanded array of electrified vehicle choices to suit their individual tastes and driving needs," American Honda Motor said in a statement.
Following the US launch of the redesigned fuel cell model late in 2016, the electric version will go on sale in 2017.
"The electric will be the first affordable, midsize, five-passenger battery electric vehicle (BEV) to offer premium content and features," the automaker claimed. The plug-in hybrid will launch in all 50 states later in 2017 and will be the volume leader in the series, combining an all-electric driving range in excess of 40 miles (65km) "with a hyper-efficient petrol-hybrid extended range model", Honda said.
Honda had previously said it would make all three saloons, without naming them.
The automaker promises "spacious interiors outfitted with premium, environmentally-responsible materials and thoughtful, stylish design cues". Technology will including a 'Display Audio' system with Android Auto and Apple CarPlay as well as standard Honda Sensing safety and driver-assistive systems.
"The Clarity series will provide customers with a well-equipped, premium, midsize vehicle with range of ultra low-carbon powertrain options to suit their lifestyle needs," said John Mendel, head of American Honda's automobile division. "This trio of dedicated, advanced technology vehicles, along with the expanded application of two- and three-motor hybrid systems to our core models, represents a strong commitment to Honda's future and will help create a new volume pillar for electrified vehicle sales."
Honda said the shared platform strategy "also enables flexibility in responding to infrastructure and market developments" and the ability to provide customers with an ultra-low carbon vehicle that meets lifestyle needs while expanding the market for the automaker's advanced technology products".
Deliveries of the Clarity Fuel Cell, the first to launch, begin in California in late 2016 with a targeted monthly lease price of under US$500.
Expected US EPA driving range is over 300 miles (500km), with a refueling time of approximately three to five minutes, roughly equivalent, Honda reckons, to customers' experience with petrol refueling.
The automaker is also due to launch a redesigned 2017 Accord hybrid later this spring. According to Reuters, Honda sold about 14,000 of the previous model in the US in 2014, the last full year it was available. Mendel told the news agency the automaker expects the new Accord hybrid to rack up double the annual sales of the previous model. The new model will run 49 miles per US petrol gallon in the city and 47mpg on the highway, based on more stringent 2017 US Environmental Protection Agency ratings, Mendel added.
He declined to estimate how many fuel cell vehicles would be on US roads by 2030, Reuters said.