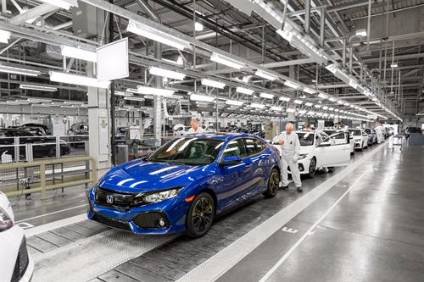 Honda is planning to close its UK car manufacturing plant at Swindon, with an official announcement planned for tomorrow.
Reports – not denied by the company today – say that the plant, which makes the Civic and employs 3,500 people, will be shuttered by 2022. The plant made 160,676 cars in 2018, 2.1% below the previous year's total.
The closure of the plant would be a big blow to the UK's automotive sector as it eyes an uncertain future ahead of the UK's departure from the EU.
The Honda plant at Swindon has been seen as relatively vulnerable because of its low volume (and the Civic is arguably a model not well aligned with major market segmentation trends such as the growth of SUVs). Attempts have been made to make the plant more commercially sustainable by growing exports to markets around the world (the US, for example), but these have met with limited success.
Honda as a brand has long been seen as an under-achiever in the European marketplace. In 2018 the company sold just 135,600 cars in the EU (share 0.8%) which compares with 760,100 for Toyota Group (4.9% share) and 493,900 units for Nissan (3.2% share).
'Global forces at work, not Brexit' – Swindon MPs
In a joint statement, two of Swindon's MPs expressed their disappointment and surprise at the news but pointed out that there are global forces at work, with Honda production being consolidated in Japan.
Justin Tomlinson and Robert Buckland said in the statement that the "decision has been made because of global trends and is not related to Brexit. The Turkey factory will also close as all European market production is being consolidated to Japan where the company is based."
"This consolidation is made easier by the new EU-Japan trade deal which will allow Honda to produce their cars in Japan and import them into the EU, rather than produce the cars in Europe," they said.
They also said that Honda said "they will be consulting with all staff and there is not expected to be any job losses or change in production until 2021."
They added: "Our thoughts are with fellow residents and friends who work at Honda and in the local supply chain too. We will do all we can to support them as news continues to emerge."
See also: Any Honda UK plant closure "shattering blow" – Unite