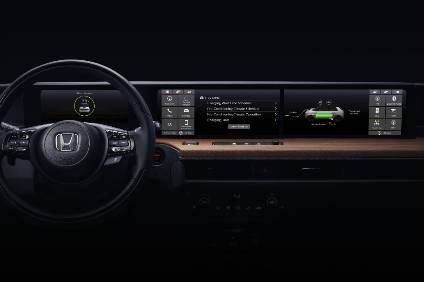 Honda has given a first look at the interior of its compact electric vehicle prototype to be shown in Geneva next month. It reveals a full-width dashboard which it says 'combines clean and simple design with user focused technology'.
Honda says the interior is designed to create a 'warm and engaging atmosphere inspired by the Urban EV Concept launched at 2017 Frankfurt Motor Show'.
As well as a full-width dashboard, Honda says the design will feature 'intuitive user-focused technology'.
The Urban EV will be Honda's first mass-produced battery electric vehicle sold in Europe. Honda says the car will be on sale later this year and that under its 'Electric Vision' commitment, two thirds of European sales will feature electrified technology by 2025. A design sketch of the prototype can be seen here.
The Urban EV concept seen at Frankfurt in 2017 was retro-styled and well received by media. At the time, Honda said the car would accommodate four occupants in comfort across the concept car's two bench seats, which are finished in different materials to 'create the ambience of a lounge'.