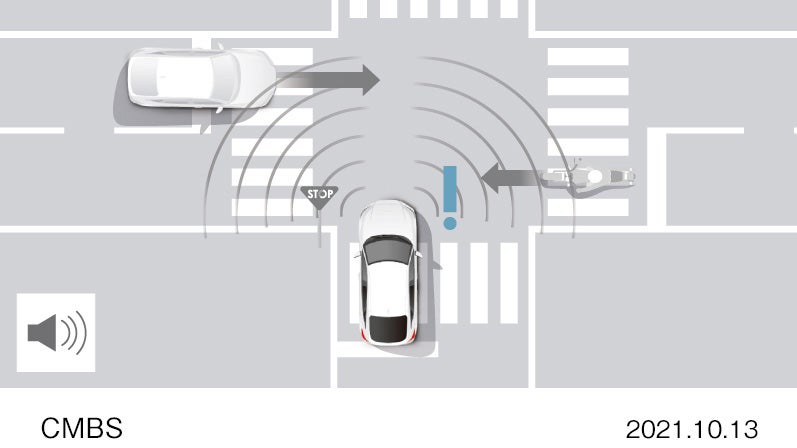 Honda Motor has unveiled its new Sensing 360 omnidirectional safety and driver-assistive system which removes blind spots around the vehicle and contributes to collision avoidance and the reduction of driver burden while driving.
Evolved from the previous system, the system features an expanded sensing range omnidirectionally around the vehicle instead of just front and rear.
Application will begin in 2022 with automobile product introduced in China. Honda will strive to expand the application to all models to go on sale in all major markets by 2030.
SENSING 360 has improved on a system introduced in 2014 by adding five millimetre wave radars in front and at each corner of the vehicle, in addition to the monocular camera which is used by the current system. This expanded sensing range covers blind spots around the vehicle which are difficult for the driver to visually check. Honda has used knowledge and know-how amassed through the research and development of Level 3 automated driving technology.
Collision Mitigation Braking System (CMBS) has been enhanced. When making a right or left turn at an intersection on a surface street, when the system detects other vehicles or pedestrians and recognises the risk of a collision, CMBS will kick in.  Advanced from the current CMBS, the new version has a broader range of detection that is expanded from in front of the vehicle to include all directions around the vehicle. This enables the system to assist the driver in the avoidance and mitigation of a collision with another vehicle or pedestrian entering an intersection at the same time from different directions.
Front Cross Traffic Warning, at a low speed or starting from a stop at an intersection on a surface street, notifies the driver of information about vehicles approaching to cross the intersection from the sides and front. When it recognises the risk of a collision with the crossing vehicle, the system provides audio and visual warnings to alert the driver and prompt collision avoidance actions.
Lane Change Collision Mitigation assists the avoidance of a collision with a vehicle in the adjacent lane approaching from behind. When the system recognizes the risk of collision with a vehicle approaching from the blind spot behind the vehicle, the system provides audio and visual warnings to alert the driver and assist steering for collision avoidance.
Active Lane Change Assist, when driving with Adaptive Cruise Control (ACC) with Low-Speed Follow and the Lane Keeping Assist System (LKAS) activated and when certain conditions are satisfied on a motorway, when the driver puts on the turn signal, the system assists with steering for the lane change.
Cornering Speed Assist when cornering on a motorway with ACC engaged, properly adjusts vehicle speed. Using a front camera, the system detects the curvature of the lane before reaching the curve and assists the driver to complete smooth cornering.