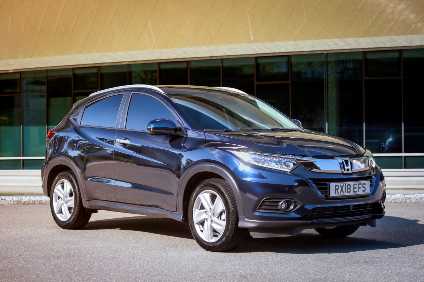 Honda has revealed details of the 2019 model year facelifted HR-V model, described as its most sophisticated subcompact SUV to date. The revised model features some changes to exterior styling, updates to the interior and adds a range of advanced technologies, including active noise cancellation.
Among the changes, the headlights and rear lights are upgraded to full LED units.
From launch (October 2018 in UK), the 2019 Honda HR-V will be available with the 1.5-litre i-VTEC naturally aspirated petrol engine, which offers a high output of 130 PS (96 kW) and maximum torque of 155 Nm at 4,600 rpm. Acceleration from 0-100 km/h (0-62 mph) takes 10.2 seconds when equipped with the six-speed manual (6MT), and 10.9 seconds with the optional CVT. The petrol engine offers an impressive blend of power and efficiency, with average fuel economy from 53.2 mpg and official average CO2 emissions of 121* g/km for the CVT model.
Honda says the i-VTEC engine has been enhanced by 'advanced plateau honing', that lowers the friction level between the pistons and the cylinder bores by creating an ultra-smooth surface. Its timing chain guides also feature a new friction-reducing coating, which further helps to reduce long-term wear and boost engine efficiency, the company says.
According to just-auto's QUBE/PLDB intelligence service, Honda shifted build of the HR-V for European markets out of Mexico and into Japan in February 2018, timed to coincide with the announcement of the facelifted model.
Active Noise Cancellation (ANC)
Honda also says it has improved the interior quietness and refinement of the HR-V by adding greater levels of insulating material around the car, including around the front bulkhead and wheel arches, the boot structure, and both front and rear door panels. Depending on model grade, the 2019 HR-V will also be equipped with Active Noise Cancellation (ANC) for the first time. ANC is designed to reduce low-frequency noise in the interior by monitoring for such noises using two in-cabin microphones, and then cancelling them out with precisely-timed 'reverse phase' audio signals through the speakers.
Production of 2019 HR-V 1.5L i-VTEC variants has started with the deliveries commencing from October. A sportier, 1.5L VTEC TURBO engine will follow with availability from spring 2019, alongside a 1.6L i-DTEC diesel engine.