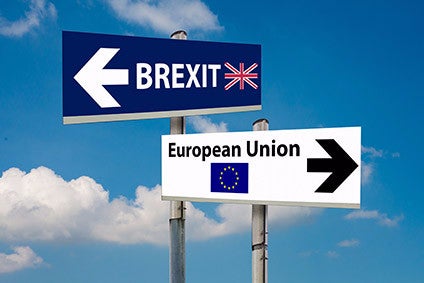 Honda has strongly backed the case for the UK remaining inside the EU's customs union after it leaves the EU in 2019. The UK government has previously said that the UK will leave the EU's single market and the EU customs union as part of the plans to leave the EU.
Speaking at the SMMT's International Summit in London, Ian Howells (Senior Vice President, Honda Motor Europe) warned that a business environment that supports and encourages free and frictionless trade is necessary to enable companies like Honda to seize business opportunities, 'particularly in the light of the UK's departure from the EU'.
"To us, free and frictionless trade implies the elimination of tariff and non-tariff barriers, for the smooth flow of goods along supply chains and simple, painless customs arrangements," he said. "All of which the European Union's customs union currently provides."
He said that the more Honda digs into the detail of what leaving the EU's customs union after Brexit would mean, the 'more complexity we discover'. Howells warned that that leaving the EU would "create additional cost to our business as well as create complex technical and regulatory challenges for civil servants and businesses alike".
Howells said that continued membership of the EU customs union could provide significant benefits for the ongoing success of the UK's automotive sector.
"By remaining inside we avoid customs tariffs," he said. "Tariffs would erode the competitiveness of OEMs as well as companies throughout the supply chain. Not having tariffs enables UK operations to compete fairly with EU-based carmakers. Under WTO rules that would apply if we left the customs union without an EU-UK free trade agreement, cars would attract a 10% tariff and parts would face 4.5% tariffs. High tariffs would reduce the competitiveness of UK exports to the EU while the [reciprocal] imposition of tariffs on parts imported from the EU would drive up the costs for manufacturing in the UK, regardless of where in the world the products are sold."
Rules of origin compliance issue
Howells also pointed out that being in the customs union avoids the complexity of applying 'rules of origin'. "All free trade agreements use these rules to determine which goods can benefit from reduced duties and other preferential treatment," he said. "These rules usually state that a product must contain 50-60% of originated content to benefit from reduced tariffs. The reality is that only 40% or so of the components used to build a modern car can be sourced in the UK and not all of that would be customs originating as local suppliers often source from abroad.
"The upshot of that would be not being able to meet rules of origin thresholds and the UK automotive sector would therefore not stand to gain from trade deals with the EU or rest of the world without significant divergence from current practice.
Staying in the EU customs union avoids costly and complex compliance on goods traded with the EU.
"Staying in the EU customs union avoids costly and complex compliance on goods traded with the EU.
"Further, by pooling UK and EU content, we would also continue to benefit on preferential treatments from EU free trade deals with third countries. Simple EEA membership [European Economic Area – a free trade zone that includes EFTA countries] or a free trade deal would not be sufficient. Compliance with rules of origin currently imposes heavy costs on Norway and other EEA members not in the EU customs union."
Howells also stressed the importance of maintaining pan-European supply chains for automotive manufacturing in Britain, with a high proportion of components coming from European factories. "As we operate a highly efficient just-in-time manufacturing process, we rely on goods being able to move smoothly across the EU-UK border, arriving at the factory at the right time. Production at Swindon relies on the timely delivery of two million components daily; some 350 truckloads a day are EU-sourced parts. We hold components for one hours' worth of production line-side, and hold just half a day's worth of EU and UK sourced components in local warehouses. Given this finely balanced system, any disruption to the flow of goods to the factory could interrupt our ability to continue to produce cars efficiently at Swindon. By remaining in the customs union, we avoid these risks."
Howells also pointed out that additional border checks on goods would mean more spending on infrastructure and staff for new customs checks at EU-UK borders. In addition, he said new customs procedures would create new administrative and IT burdens for UK companies.
All member states of the EU are inside the trade bloc's customs union (and the EU single market, which covers services and free movement of people, as well as physical goods), but membership of the customs union is also available to non-EU members. Turkey, for example, is not in the EU but is inside the EU's customs area following a customs agreement signed in the mid-1990s. On the plus side, Turkey has benefited from much automotive inward investment – OEMs and suppliers attracted to its low costs and easy, tariff-free shipments to the EU. However, critics point out that Turkey has been impeded from cutting trade deals with non-EU countries and is forced to accept EU free trade deals with third countries, some of which can potentially disadvantage Turkey's domestic economy.
Staying inside the EU's customs area following EU exit would likely be politically controversial in the UK.