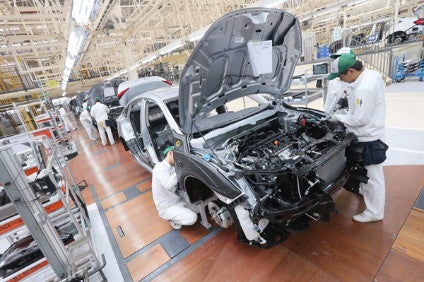 Honda Automobile (Thailand) (HATC) on Thursday (12 May) held the opening ceremony for its new plant located at Rojana Industrial Park in Prachinburi province. The new plant, with flowing cell production system, will supply Thailand and Asia-Pacific markets primarily.
"The plant also will help strengthen the company's role as one of Honda's important automobile production hubs," the automaker said in a statement.
The plant mirrors advanced and eco-responsible technologies introduced at the Yorii Plant, Honda's most advanced auto plant in Japan.
Prachinburi started mass production of the redesigned Civic last March following the production start for plastic parts, and engine and engine parts which started in October 2015 and February 2016 respectively. The plant will produce sub-compact and compact models for the domestic market and export.
Thai deputy prime minister Somkid Jatusripitak said: "As the automobile industry is a major factor in the development of the Thai economy, I am glad to see Honda is making Thailand a strategic production and export hub with the most advanced and environmentally-responsible technologies. It will enhance our country's standing as an important global automobile production base."
Takahiro Hachigo, president, CEO and representative director of Honda Motor, said: "Thailand has increased its presence as one of Honda's production hubs by supplying products and components not only for the home market but also for the world including ASEAN nations, which drive our global sales growth. I am committed to making certain that the role of Thailand will become even more valuable with the completion of this all-new Prachinburi factory with full advantage of [our] newest production technologies."
Noriaki Abe, chief operating officer for regional operations (Asia & Oceania) of Honda Motor and president & CEO of Asian Honda Motor, said: "This new factory's high production efficiency will help improve the competitiveness of [our] products and parts. We plan to produce more sub-compact and compact models at this Prachinburi plant in the future to further improve our competitiveness both in the Thai market and for export and thereby contribute to the Thai economy."
Gaku Nakanishi, President & CEO of Honda Automobile (Thailand) Co., Ltd., said: "With the increased production efficiency of this new factory, we will further strengthen our business operations and enhance the competitiveness of our products and parts made in Thailand."
Honda said the flowing cell system boosted roduction efficiency by 10% compared to a conventional assembly line. Stamping press process efficiency has been improved by 25% compared to that of a conventional line due to servo control and a high speed feeder. On the welding line the operating ratio has improved by 40% versus a conventional line with the application of compact and lightweight welding jigs. A 'water conveyor' fully re-uses water used to cool the plant's production processes and a 'skylight roof' with windows uses daylight to illuminate the plant floor instead of electricity.
Production capacity is 120,000 units per year.