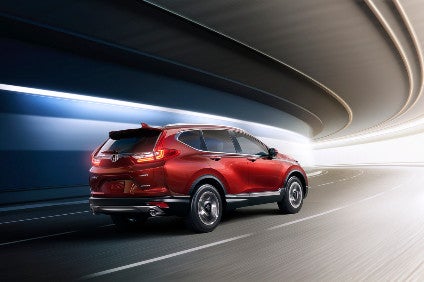 Honda North America said its redesigned 2017 CR-V, just announced in the US, would be produced for that market at three plants in North America – East Liberty, Ohio; Alliston, Ontario, Canada; and, for the first time, in Greensburg, Indiana using local and overseas sourced parts.
Engines would be manufactured in Anna, Ohio and Alliston with the CVT transmission produced in Russells Point, Ohio.
Moving CR-V production from Mexico, to free up capacity for more of the smaller HR-V, was, in fact, announced at the beginning of this year. Honda's Swindon plant in England, which built the previous generation CR-V is now a major global source plant for the Civic hatchback, beginning a few weeks ago with US-bound cars, and Honda Europe will import the latest CR-V from Alliston, also as previously announced.
Honda executives launching the US CR-V in Detroit told Reuters the company plans to expand overall output of the vehicles in North America using the three assembly plants.
Greensburg plant is capable of producing about 250,000 vehicles a year, and will continue to build [non-hatchback] Civic models.
Thanks to added production, "it's possible next year CR-V could be our best selling vehicle", Jeff Conrad, general manager of the Honda Division told Reuters.
The report noted US sales of compact utility wagons such as the CR-V, the Chevrolet Equinox, the Nissan Rogue [X-Trail elsewhere], Ford Escape [Kuga], Toyota RAV4 and other models are growing. In September, the CR-V was the fourth best-selling vehicle in the United States, after the three best-selling large pickup trucks made by GM, Ford and FCA.
According to just-auto data, Honda's September 2016 sales dipped 0.1% year on year to 133,655 but were up 3.3% to 1,228,380. Unusually for a model in its swansong model year, CR-V sales rose 6.5% to 31,884 last month and 1.5% to 263,493 YTD.
Conrad told Reuters boosting CR-V output would intensify competition in the crowded compact SUV segment, as rivals are making similar moves. The new SUV has more interior space than its predecessor, new safety features and a physical volume knob for the radio in response to complaints about digital volume controls. That will also go down well here in Europe.
"We build a better mousetrap, we win," Conrad said.