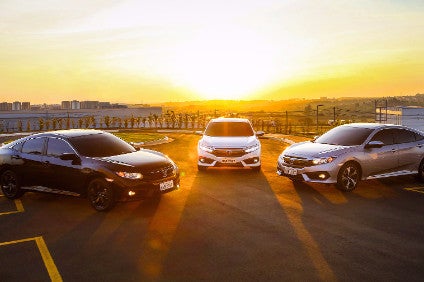 This year in Brazil has been notable for medium-size model renewals. This started with an update for Nissan's Sentra, followed by the redesigned Chevrolet Cruze, and now comes the 10th-generation Honda Civic sedan.
Attention was focused, as ever, on the Honda's nemesis – Toyota's Corolla. The latest Civic is larger, better equipped, has plenty of rear seat legroom and an enlarged boot of 519 litres/18.3 cu ft.
A top line Touring version has been added together with a new 1.5-litre/91.5 cu in turbo I-4 (petrol only, flexible-fuel within a year when local manufacturing commences). Entry-level and intermediate versions keep the 153 bhp (on ethanol) naturally aspirated two-litre/122 cu in four.
The design is quite bold without exaggeration. Driving impresses thanks to the electric-assisted steering with variable ratio (just 2.2 turns lock to lock) and the new multi-link rear suspension. A very useful camera attached to the near side mirror is a Touring exclusive.
The CVT automatic gearbox performs nicely with the more powerful engine when the shift paddles are used and the seven virtual speeds give responses that provide some peppiness in 'S' mode. Less powerful versions are coupled to the same gearbox and don't perform quite as well.
The rear floor area is no longer flat for insurmountable aerodynamics. Height is 2cm/0.79 in down without hurting headroom.
Honda faces a challenge here in Brazil. It must manage capacity of its sole manufacturing plant in Sumaré, northwest of São Paulo City, which is currently producing four models, so the Civic will be initially offered at a rate of 3,000 units a month, clearly below its sales potential.
Operations at a brand new factory in Itirapina, northwest of Sumaré, will not start until the two-shift Sumaré operation is at full capacity while 5,000 units per month is possible on a single shift in Itirapina. Honda is not keen on three shifts at Sumaré which would simplify matters.
Such a dilemma and the strategy of not producing more than it sells could explain the pricing strategy for the new version.
The Civic now starts at BRL87,900/US$27,000 and tops out at a stratospheric BRL124,900/$38,400. Initially, the entry leverl Sport version is expected to account for 24% of sales, the intermediates (EX and EXL) 48%, all with two-litre power, while the new 1.5 turbo Touring will account for 28%.
This is not a normal or definitive mix but it reflects the local production situation for the foreseeable future.