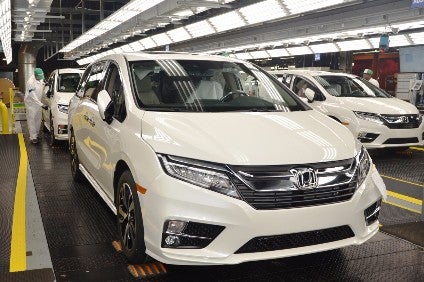 Around 1,500 workers at Honda Manufacturing of Alabama (HMA) have celebrated the start of mass production of the redesigned 2018 Odyssey minivan, on sale later this spring.
Alabama is the only Honda plant making what the automaker bills the ""family-friendly Odyssey – the most popular minivan in America in each of the past seven years".
HMA is also the sole production source of the Pilot SUV and Ridgeline pickup truck models, like the Odyssey built mostly for North American markets.
HMA also builds the luxury Acura brand's MDX SUV and V6 engines.
The 2018 model is the fourth generation Odyssey built in Alabama and the second designed and developed in the US.
HMA has made "significant investments" in new plant and assembly technologies including a new process for the installation of acoustic spray foam in 14 locations in the vehicle body.
HMA started production on 14 November 2001 with the second generation Odyssey. The plant has since built 4m vehicles and V6 engines at the Lincoln factory. The latest Odyssey is the fourth new model off the production line in the last five years.