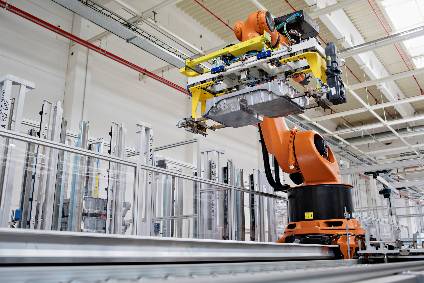 Taiwan's Hon Hai Precision Industry Company said it was developing a fast charging, long lasting electric vehicle (EV) lithium iron phosphate battery that uses new developments in anode materials.
The company, also known as Apple's leading contract manufacturer Foxconn, signed a memorandum of understanding (MOU) with three local materials suppliers including Giga Solar Materials Corporation, Long Time Technology Company and China Steel Chemical Corporation to "accelerate the development of anode materials for the next generation of made in Taiwan EV batteries".
Hon Hai said the new batteries use mesocarbon microbeads (MCMB) supplied by China Steel Chemical manufacturers, silicon oxide produced by Giga Solar oxide and artificial graphite from Long Time Technology.
According to Hon Hai, China Steel Chemical is the world's largest manufacturer of MCMBs and has a strong upstream supply chain and proprietary manufacturing technology. Hon Hai has stakes in both Long Time Technology and Giga Solar Materials.
The MoU stated: "We anticipate our partnership will help Hon Hai establish a strong presence in the global EV battery supply chain, to become widely used in electric vehicles, electric buses and battery storage systems."
Hon Hai said the first application for the new lithium iron phosphate batteries would be in the E Bus it is scheduled to produce in partnership with Kaohsiung Bus Company from 2023, using Foxtron's MIH commercial vehicle platform.
Hon Hai, through its Foxtronn EV division, is looking to establish itself as an EV contract manufacturing company and has developed its own modular EV platform and related supply chain to offer its business partners.