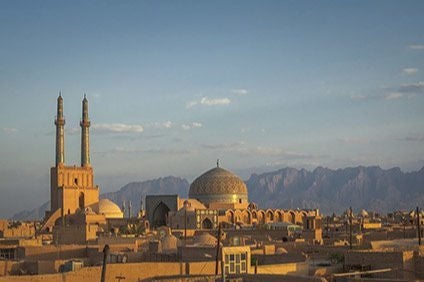 Expert sources close to Iranian automaker, Saipa, say the imminent dropping of decades-long sanctions against Tehran could pave the way to collaborating with Western suppliers in as little as six months.
Iran has been the focus of relentless and fierce economic sanctions for a generation, leading to an ageing car parc desperately lacking in components, but years of painstaking negotiations, often in the teeth of vociferous and vocal opposition, seem on the brink of bearing fruit.
Some speculate many economic barriers could be lifted as early as tomorrow (15 January), despite the extraordinary detention of US Navy sailors by Tehran yesterday for an unplanned incursion into Iranian waters, an incident smoothed over with startling rapidity by both sides anxious not to scupper any deal.
"All the evidence shows sanctions are going to be removed and we hope everything goes well," an expert familiar with Saipa told just-auto from Iran. "I heard [Foreign Minister Mohammad Javad Zarif and EU High Representative Federica Mogherini] were going to declare the statement to end sanctions.
"I heard they are going to have a meeting in which they are going to announce that – they are going to announce it today or tomorrow.
"There will be [an] international conference in Iran in February in which they are going to persuade foreign suppliers to invest in our country. Especially for supplying parts and components. I think within six months or one year, we will have many negotiations with suppliers from around the world, especially Europe."
The Iranian source also expressed optimism access to credit and finance would become easier once sanctions were lifted, conceding there had been "some obstacles" in the past.
Saipa started working with Citroen in Iran, but also collaborates with Renault through its Pars Khodro division.
Some Western supplier associations – notably FKG from Scandinavia and FIEV from France – have beaten a path to Iran's door in recent times – as the weather vane started to point increasingly towards the ending of sanctions and the opening of a 2m-strong vehicle market almost hitherto untapped.
"I am confident sanctions will be lifted so we bring Iran into the global automotive community," FKG CEO, Fredrik Sidahl told just-auto. "The reasons for that is a: It is a great business opportunity for the industry and Europe and b: It is a great opportunity for environmental issues like reducing CO2.
"We need to support Iran as a Middle East manufacturer of cars and trucks of good technology. It is a country in desperate need of of good environmental technology."
For his part, Iranian Auto Parts Manufacturers Association (IAPMA) CEO, Sasan Ghorbani added to just-auto: "Sanctions have made a lot of limitations for us – we believe many difficulties and problems will be resolved and parts manufacturers will improve their supply [once they are lifted].
"High-tech parts and components are our principal problems. Iran has great infrastructure; but sanctions caused us to lag behind [the] advanced automotive world in technological fields. But lifting sanctions can compensate for this problem.
"High-tech parts and components are our principal problems. Iran has great infrastructure; but sanctions caused us to lag behind [the] advanced automotive world in technological fields. But lifting sanctions can compensate for this problem."