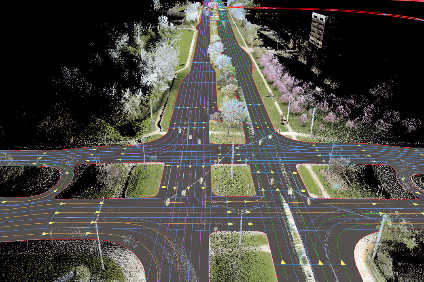 In a move that brings together the capabilities of an ADAS tech specialist with a mapping company, HERE and Mobileye have announced plans for a strategic partnership that links their respective autonomous driving technologies into an "enhanced industry-leading offering for automakers".
Mobileye's "Roadbook" will be integrated as a data layer in HERE HD Live Map, HERE's real-time cloud service for partially, highly and fully automated vehicles. Roadbook information will "provide an important additional layer of real-time contextual awareness by gathering landmark and roadway information to assist in making a vehicle more aware of – and better able to react to – its surroundings, as well as allow for more accurate vehicle positioning on the road."
Mobileye will also utilise the HERE Open Location Platform for the ingestion and processing of raw sensor and observation data (Road Segment Data, RSD), and the creation and dynamic maintenance of its Roadbook products. The HERE Open Location Platform is the next generation of HERE's location platform, developed to support the ingestion, enrichment and processing of real-time location-based data for multiple industries, including the automotive industry.
HERE will utilise RSD, as well as the Global Roadbook (GLRB), collected and aggregated from certain vehicle brands equipped with Mobileye technology to support change detection and the maintenance of HERE HD Live Map.
Detecting changes in the real world and adjusting the map accordingly is critically important for automated vehicles to plan better driving strategies. With more sensor data available from car manufacturers equipped with Mobileye's REM technology, the HERE HD Live Map will be updated even more quickly, achieving very short Time to Reflect Reality.
"We are building a state-of-the-art global HD map that is becoming the standard for autonomous driving and other IoT applications that need precise location-based information and services," said Edzard Overbeek, CEO of HERE. "We are rapidly expanding this capability and I am very pleased that we can accelerate that work with Mobileye, a strategic partner which shares our view of where the automotive and other industries are going."
"High-definition mapping is a key enabler for autonomous driving. Mobileye's REM™ technology, enabling crowd-sourced data extraction, together with the backend processing of the Roadbook™ combined with HERE HD Live Map is critical to ensure dynamic, near real-time updates", said Professor Amnon Shashua, Chairman and CTO of Mobileye. "We are pleased to work with HERE to create a "world HD-map" standard, leveraging the combined fleet size of certain vehicle brands initially, with the objective of eventually launching an industry wide initiative."
In parallel, the two companies also intend to explore other potential opportunities where their products and services are complementary to further support automotive companies in advancing their autonomous driving and mobility strategies generally.