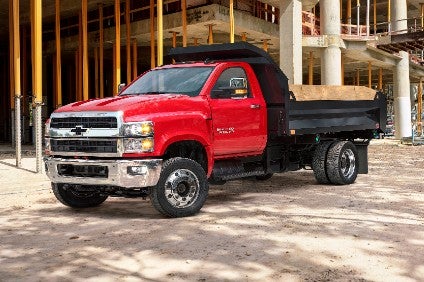 General Motors and the United Auto Workers reportedly have agreed to mandatory Sunday overtime at the Flint pickup truck plant in Michigan, to keep pace with demand for heavy-duty Chevrolet and GMC models.
Thedetroitbureau.com reported the development, citing a memo signed by both the automaker and representatives of UAW Local [branch] 598.
"As we mentioned prior to entering into emergency status at the end of last year, we are facing an extraordinary challenge – customer demand for our HD truck continues to increase but dealer stocks have not stabilised," said the memo signed by plant manager Erik Pelton and UAW plant chairman Mike Perez.
"Due to the continued competitive pressure in the heavy duty [US pickup truck] market from Ford and FCA, we are announcing additional, mandatory shifts for the coming week," the memo added.
"In an effort to better balance the needs of the business and the needs of team members, we are scheduling the needs of the business, we are scheduling mandatory shifts each Sunday for the next several weeks," it continued.
Thedetroitbureau.com reported the memo said each of the plant's three shifts would work one Sunday, on a rotating basis, each weekend into April.
The company and union memo was both posted up in the plant and distributed to union members.
"We believe this step, along with meeting our daily production and quality targets, is an essential step to help secure the future of Flint assembly," the memo said.
Flint was once home to the huge 'Buick City' facility, since closed with the loss of thousands of UAW jobs, and demolished, and the eventual subject of the Michael Moore movie Roger and Me [a reference to former GM CEO Roger Smith whose downsizing programme led to the plant's demise].
Thedetroitbureau.com said Flint Assembly had been working a heavy overtime schedule since the UAW's 40-day strike against GM ended at the end of October. The overtime schedule had included mandatory weekend overtime.
The report noted the heavy-duty pick-up trucks built at Flint are among the most profitable vehicles in the GM product line and the automaker had been in the middle of ramping up production of redesigned models when the UAW's strike began in mid-September.
GM has been facing heavy pressure from rivals – FCA's Ram pickups, including the heavy-duty version, actually outsold Chevrolet pick-ups in 2019.
Ram's success also has meant that FCA has more money available to spend on incentives and advertising, increasing the pressure on GM and the Chevrolet and GMC brands, thedetroitbureau.com said.